Report: Carmelo wants to talk to Pau Gasol about joining Knicks
Free agent forward Carmelo Anthony reportedly is intrigued by the idea of playing with Pau Gasol in New York.
• 1 min read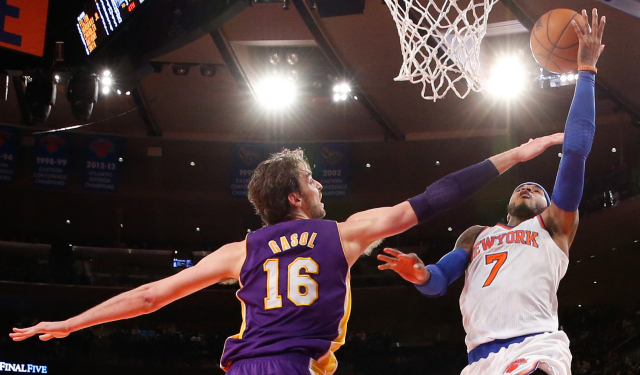 More Offseason Analysis: Coaching changes, news | Free Agency | Draft
Free agent forward Carmelo Anthony wants to talk to free agent big man Pau Gasol about teaming up in New York, according to Yahoo Sports' Adrian Wojnarowski.
Hours before his final meeting with New York Knicks officials, free agent Carmelo Anthony reached out to obtain free agent Pau Gasol's phone number and discuss with him the possibility of playing together at Madison Square Garden, league sources told Yahoo Sports.

The Knicks had exuded an increasing confidence they can hold off the free-agent courtships of Chicago and Houston and were further encouraged with Anthony's desire to talk to Gasol about New York, sources said.
Anthony has enjoyed meeting with teams all week, and Knicks president Phil Jackson "risked trouble if he played it too cool" on Thursday, according to Yahoo Sports. Gasol reportedly is most intrigued by the Chicago Bulls and Oklahoma City Thunder, and New York can only offer him a contract starting at $3.3 million per season. He reportedly wants one starting at around $10 million. 
If you're the Knicks, and you want Anthony back, this is great news. Even though he's been impressed by other teams' presentations, he's actually recruiting potential teammates to join him at MSG. Gasol still has a lot to offer on offense, and he'd be a great fit if they're playing the triangle. New York needs a serious makeover after the disaster that was last season, and Gasol needs a change of scene after a couple of unhappy years in Los Angeles. He'd obviously be comfortable working with Phil Jackson and Derek Fisher.
Just how good would this make the Knicks, though? They were 24th in defensive efficiency last season, per Basketball-Reference, and they just traded Tyson Chandler. Is Gasol going to be asked to protect the rim now? That would be a bad idea. He's turning 34 in three days, and he'd be a good value signing, but New York would still have a long way to go.
Victor Oladipo just wants to live his life and enjoy his breakout season with his new team

Keep it right here for all of the news, notes, scores, and highlights from around the Asso...

LeBron has a player option for next season, and is expected to opt out and become a free a...
The Pistons will be looking to snap a five-game losing streak when they host the Celtics on...

Bryant offers some advice for Ball and other rookies about having a sense of urgency in the...

Burks has stepped up in a big way for the Jazz, averaging over 20 points per game since Rodney...