Report: Cavaliers close to signing No. 1 overall pick Andrew Wiggins
Move to sign top draft pick would freeze any trade for Kevin Love for 30 days.
More Offseason Analysis: Updating Free Agency news | Free Agent tracker
ESPN reports that the Cleveland Cavaliers are closing in on signing their No. 1 overall pick Andrew Wiggins. That's a pretty pedestrian move, but what's interesting is the impact it could have on the newest NBA offseason drama: the potential for a Kevin Love trade to Cleveland. 
The Cleveland Cavaliers are planning to sign No. 1 overall draft pick Andrew Wiggins to a contract in the coming week, according to sources close to the process.

Sources told ESPN.com that the Cavaliers' delay in signing the former Kansas star has nothing to do with the prospect of Wiggins being dealt to the Minnesota Timberwolves as part of Cleveland's ongoing trade discussions for Kevin Love.

The Cavaliers, sources say, are merely exploring options for using their estimated $1.4 million in remaining cap space before signing Wiggins to a contract that will pay him in the neighborhood of $5.5 million as a rookie.

Once Wiggins signs, though, league rules stipulate that the Cavs must wait 30 days before trading him.
via Cleveland Cavaliers to sign Andrew Wiggins this week - ESPN.
The Cavaliers have been dancing with the Wolves since landing the No. 1 pick in May's lottery, resisting the urge to trade the pick and later Wiggins after the selection. But last week word surfaced they have changed their minds and are considering sending Wiggins in a package for the Timberwolves star. 
Having to wait 30 days wouldn't mean that the deal is precluded from happening. They can work throughout the period to reach a deal, or just agree to one and wait 30 days. 
But without it being able to be made official, there is the risk of another team, be it Golden State, Boston or some sleeper team, of coming in with an offer to bowl over the Wolves and acquire Love. It does mean the situation remains fluid and if they go though with it, to a degree it's a dare-you move by the Wolves.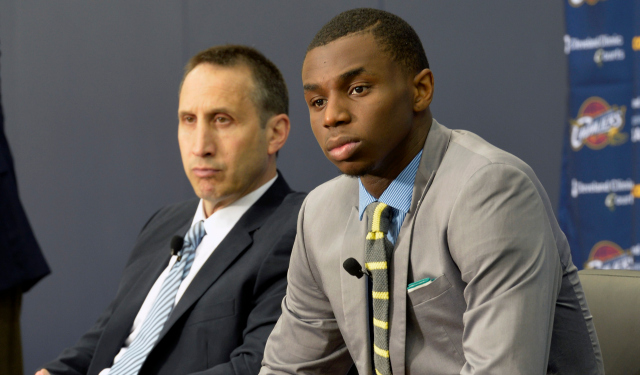 The Warriors rookie threw down an off-the-backboard dunk while up 25 late in the fourth qu...

The third member of the club might come as a surprise

LaVar said Lonzo won't lose again this week, and Marcin Gortat found that pretty funny
Eric Bledsoe is going to be traded at some point and these tweets will explain how it got...

Curry's outburst will cost him some money, but he won't miss any games

A look at the ups and downs for various suitors as Bledsoe has left the team.