Report: Cavaliers interested in free agent Andrew Bynum
The Cleveland Cavaliers are reportedly interested in signing Andrew Bynum to a one-year, big-money deal.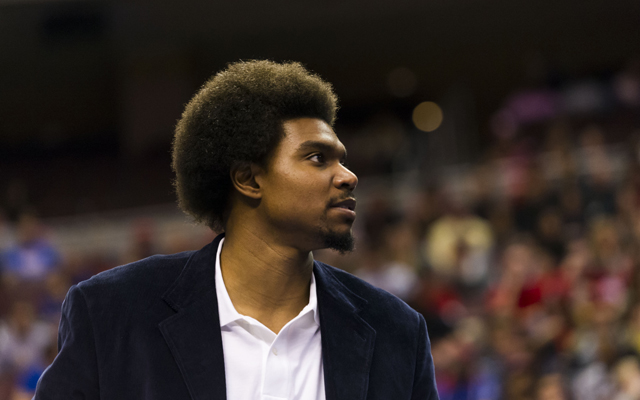 ESPN reports the Cleveland Cavaliers are interested in Andrew Bynum and are willing to put together a significant chunk of change for the former All-Star center. 
Sources close to the process told ESPN.com that the Cavaliers are legitimate contenders to sign Bynum after his lost season in Philadelphia, especially if the former Los Angeles Lakers All-Star is willing to sign a one-year deal.

Initial indications are that the Cavaliers won't offer more than a one-year deal to Bynum to preserve all of their projected salary-cap space in the summer of 2014 and the expected free-agent pursuit of LeBron James. But Cleveland does still have roughly $15 million in available salary-cap space to use this summer and, sources say, they have legitimate interest in Bynum.
via Cleveland Cavaliers join Dallas Mavericks in race for Andrew Bynum, sources say - ESPN.
This is kind of weird, on a couple of levels. The Cavaliers are still in a rebuilding mode, and Bynum would be an attempt to make a major leap forward. Second, they have young budding player Tristan Thompson, who would move to power forward, but then you squeeze No. 1 overall pick Anthony Bennett out of the starting lineup. 
Also, it's Andrew Bynum. Bynum missed the entire 2012-13 season with knee injuries, including one sustained after a bowling accident. There are remaining questions about his maturity, and he won't have played a minute of NBA action in nearly a year and a a half on opening night, even if he is ready for it. 
But a one-year deal might be fine to kick the tires on him. They have the space to spend on him, and if it works out, great. If not, they have a deep enough team to continue developing at the pace they'e been on. There's also the strong possibility this is a smokescreen to raise Bynum's value on the market and draw more money from the Mavericks or Hawks, who are also reportedly interested in Bynum.
Bynum averaged 18.7 points and 11.8 rebounds in 2011-12, his last season with the Lakers before being traded to Philadelphia in the Dwight Howard deal. 
The awards are voted on by peers in the NBA and adds to Russ' league MVP award he won this...

Minnesota is facing even bigger expectations headed into next season, and they'll be difficult...

When the NBA MVP odds came out, it got us thinking: Will stat-compiler Russell Westbrook win...
Durant labeled the Cavs' situation as a regular problem in the NBA

James takes to Instagram for a better look at the Cavs' new Nike-made uniforms

Kevin Durant says he doesn't agree with what President Donald Trump agrees with