Report: Cavaliers interested in trading for Danny Granger
The Cleveland Cavaliers reportedly have interest in trading for Pacers F Danny Granger, but knee injury concerns give them some pause.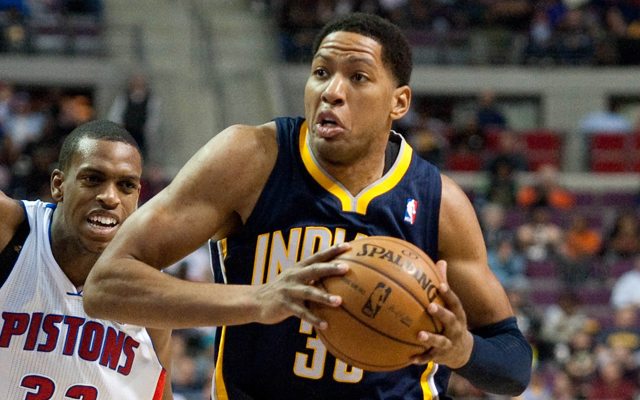 The Pacers suddenly have a luxury in Danny Granger. Their former starting forward missed nearly the entire year with knee injuries and the Pacers made the Eastern Conference finals. He's on an expiring $14 million contract, and has a lot of good years left in him if he can get healthy. 
Fox Sports Ohio reports that the Cavaliers have interest in Granger:
Multiple sources believe the Pacers are looking for a taker for veteran small forward Danny Granger. The Cavs are interested, sources said, but have reservations about the knee injury that forced him to miss much of the season. If the injury robbed Granger of his explosiveness, such a move would hardly be worth the gamble.
via NBA Report: McLemore on Cavs' radar at No. 1.
It's an intriguing prospect. It would give the Cavaliers a better frontcourt scoring option than they currently have, would make for some pretty good lineups with Anderson Varejao, would provide Kyrie Irving a pick-and-pop partner, and would give them some versatility and size in the same package. 
The knee injuries are certainly a concern, though. This makes two seasons where Granger has dealt with the issue, and what started out as a minor one this year turned into one that cost him the entire season. In unrelated news, the Cavaliers are also reportedly interested in signing former Blazers C Greg Oden because they hate knees, apparently. 
The Cavs are definitely looking to make a big impact in trade or free agency this summer, by the way these reports have been trending. They're impatient with the rebuild and want to take a significant step forward. 
Steve Kerr has given his response to Donald Trump in writing

Trump rescinded Curry's invitation to the White House after Curry said he wasn't interested...

Silver said he was hoping Warriors would get chance to share their views directly with the...
Along with the Thunder, those were the three teams most involved in the Anthony trade talk...

LeBron said he was frustrated by the President's recent actions

A look at the various actors and elements in the latest sensational blockbuster trade in the...