Report: Cavaliers players meeting becomes confrontational
All is not well by the Lake, it would seem, as Dion Waiters reportedly was involved in a confrontation with teammates at a players-only meeting.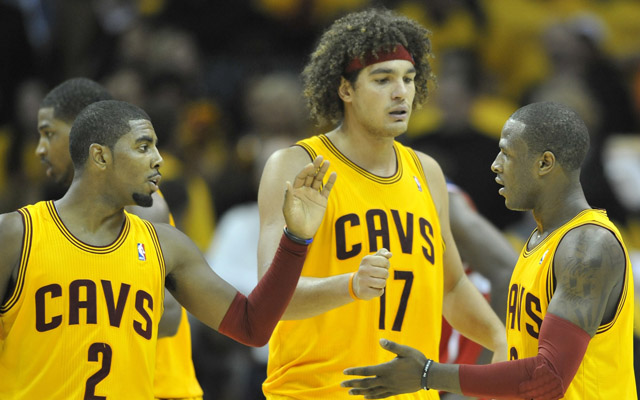 ESPN reports that after the Cavaliers' 29-point loss to the Timberwolves last Tuesday, a players-only meeting turned contentious. 
The Cavaliers held a players-only meeting following Wednesday's 29-point loss to the Minnesota Timberwolves, multiple sources told ESPN.com. But the meeting got contentious, and players confronted each other, according to sources.
via Cleveland Cavaliers held confrontational players-only meeting - ESPN.
Other internet reports have indicated Dion Waiters was involved in the ruckus, but no other outlets have confirmed. 
Waiters told Ohio.com that he'd recently had an attitude adjustment from his agent and other people close to him. HT: FearTheSword.com.
Something has just looked different about Waiters lately, it just looks like something is clicking with him. "It's my attitude," he said. "A couple talks I had with my agent talking about some things just motivating me. I was letting the game get me so frustrated."

* Waiters said the team's struggles were getting to him and "dumb things like, "I'm not touching the ball this many times.'"
via Bulls 96, Cavs 81: Jason Lloyd's final thoughts - Cleveland Cavaliers - Ohio.
Meanwhile, in the Cavs' loss to the Bulls, coach Mike Brown verbally went at star point guard Kyrie Irving. From Waiting For Next Year: 
In the first quarter of the Cavaliers' recent loss to the Chicago Bulls, Brown had an earful for his starting point guard. Brown stated that "there was a lot going on," but refused to limit it to just Irving. Irving attempted to pass off the incident as nothing more than a "conversation with his coach." What the discussion was about is unknown. It can reasonably be assumed that Brown was unhappy with how little Andrew Bynum was being used on offense in the wake of his first start with the team, but this would also force us to assume that a team-leading four field goal attempts was not sufficient. Of course, there's always defense. That said, it wasn't Irving who was willing Jarrett Jack to hoist two mid-range jump shots in the matter of nine seconds; it wasn't Kyrie who caused Dion Waiters to commit four turnovers in under nine minutes of play. Nevertheless, it was the third-year guard who was being undressed in front of an entire arena, not to mention his 11 teammates.
via Perception versus reality: The ever-evolving relationship between Mike Brown and Kyrie Irving | WaitingForNextYear.
Waiters is averaging 13 points on 40 percent shooting this season, and has two turnovers per game to three assists. The story is the same with Waiters it has been since he was drafted. If he focuses on working off-ball, he can be a tremendous asset and and part of the solution to the Cavs' increasingly maddening puzzle. If he goes into on-ball dominance and tries hero ball in isolation, it's a disaster. 
Irving, though, is the bigger conundrum. The All-Star-worthy guard is shooting 38 percent from the field, and hasn't been able to consistently make plays in the offense. You have to figure that will work itself out which would solve a lot of the Cavs' troubles, but until it does, things are going to be tense. 
As concerning, though, should be a second-year player who struggled finishing at the rim and shooting from the field last year demanding more touches and bein a part of confrontations in the locker room. 
Some of this is natural, the team's losing yet again in a year with no injuries to blame and have looked simply awful at all points, losing even their first home game Friday to the Bobcats (Waiters did not play due to illness and won't play in Washington this weekend, either). Getting past what could just be a rough patch would fix a lot of things. 
But in the short-term, everything looks both rotten and unstable in Cleveland, in a season where things were supposed to finally change. 
Nerlens Noel is now being represented by Rich Paul of Klutch Sports

Steve Kerr opens up about his back issues and more

OJ Mayo, banned from the NBA for positive drug test, is considering playing overseas
The King? 'LeBron, it turns out, is Aquaman,' or so the account via Dwyane Wade's wife goe...

From Penny to Thunder Dan to Pistol Pete to Agent Zero, guys who would be better in 2017

Griffin said recently he thinks it's more likely that LeBron James goes to New York than L...