Report: Cavaliers pursuing Ray Allen
The Cleveland Cavaliers are reportedly pursuing Ray Allen in free agency.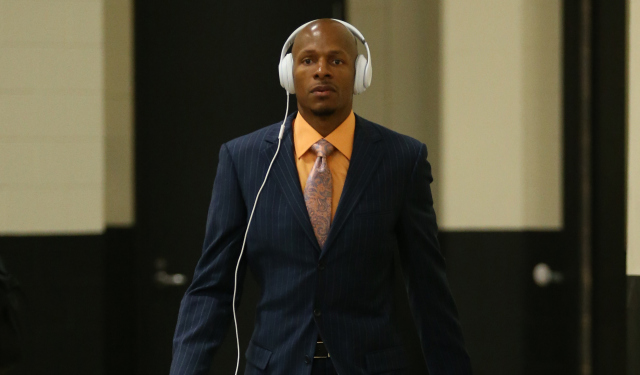 Doyel: LeBron owes Cleveland answer |

Cavs deal Jack, Zeller | Latest FA news notes
The Cleveland Cavaliers may not end up signing LeBron James this summer, but their pursuit of him has been nearly flawless. After lucking into the No. 1 pick and grabbing Andrew Wiggins, the team got Kyrie Irving to commit for a five-year, max deal. They will reportedly move Jarrett Jack's deal to clear the necessary cap space to sign LeBron to a max contract. And now they're reportedly pursuing LeBron's corner three confidant in Ray Allen as a free agent.
According to Chris Broussard of ESPN.com, the Cavs are trying to sign Allen in the hopes of giving James yet another reason to want to join his old organization. Allen and James have been teammates for the last two seasons while building a strong bond between the two players on and off the court.
Sources: Cavs pursuing Ray Allen

— Chris Broussard (@Chris_Broussard) July 9, 2014
Earlier in the offseason, Allen was reportedly looking to go wherever LeBron signed. The two players connected on countless plays over the past two seasons to account for big shots for the Miami Heat, so trying to get one of James' favorite targets is a great idea by the Cavs. The Cavs could use the shooting and he's proven to be a great complement to James on the court.
Love left Saturday's game, which the Cavs lost 148-124, due to illness

Kidd was fired by the Bucks on Monday afternoon

We've got all the scores, highlights and news from an NBA Monday
Leonard was recently shut down again to rehab the nagging quad injury

Durant, who joined the Warriors, says that Capela, the league's most efficient player, has...

Jason Kidd's firing gets the celebratory balloon treatment on Milwaukee's Twitter page