Report: Cavaliers seek trade for LaMarcus Aldridge
The Cavaliers reportedly covet LaMarcus Aldridge and want to send Portland Tristan Thompson and Dion Waiters.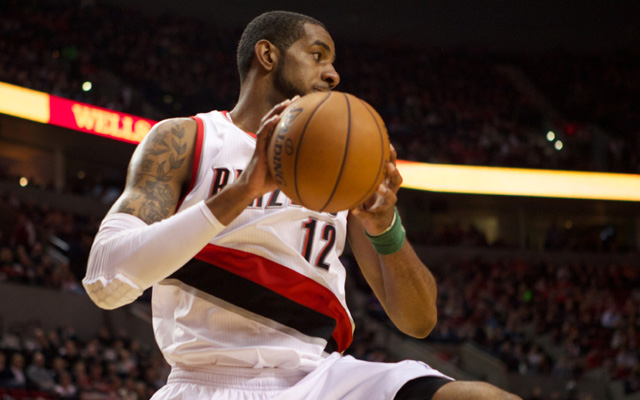 Yahoo Sports reports that as part of the Cavaliers' plans to build a contender around Kyrie Irving (and to lure back LeBron James), they have the wild idea to trade two of their young players for Portland All-Star LaMarcus Aldridge: 
Privately, the Cleveland front office has pitched a fantasy of trading young players and picks to Portland for All-Star forward LaMarcus Aldridge, sources said. Only, that's never going to happen. Cleveland is far higher on its two top-five picks, Tristan Thompson and Dion Waiters, than the rest of the NBA.
via Cavaliers need to give up dream of 2014 reunion with LeBron James - Yahoo! Sports.
Yeah, that's unlikely to happen. There's a scenario where I could see it happening, a Carmelo Anthony-type situation where Aldridge demands a trade and says he only wants to go to Cleveland. That would make him the first player since ... ever to demand a trade to Cleveland. Of course, to do so he needs the leverage of impending free agency, and he's not available until after 2015, which is past when James would hit the market if he opts out. 
Otherwise, it would take a total blowup by the Trail Blazers, who largely already blew the team up and found their new star in Damian Lillard, to convince them to trade him for those two players. Thompson is a legitimately good player who showed this season he can be a quality starter if not a star. Waiters showed flashes from February on of being a high-caliber starting two-guard. But neither is in Aldridge's stratosphere. 
So no, it would not seem likely the Blazers would make that move. Stranger things have happened, though, so it bears mentioning and keeping an eye on the situation. 
Westbrook's late layup gave the Thunder a 109-108 victory

LeBron became the seventh player in league history to reach the milestone

There were a few things that stood out from Tuesday's All-Star selections
Here are three players from each conference who had legitimate claims to make the game

LeBron achieved the milestone in the first quarter Tuesday

Here are the full lineups for the 2018 NBA All-Star Game