Report: Cavaliers set to offer Gordon Hayward $63 million max deal
Will the Jazz match the $63 million offer for the versatile forward?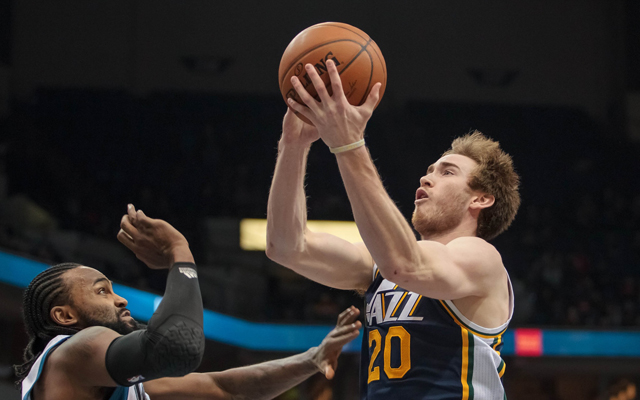 More Offseason Analysis: Updating Free Agency news | Top 40 free agents
ESPN reports that the Cleveland Cavaliers, flush with cap space and having given up dreams of LeBron James, are poised to offer Gordon Hayward a max contract. 
Cavs believed to be preparing a max offer sheet for restricted free agent Gordon Hayward, sources said. Yahoo reported he is visiting today

— Brian Windhorst (@WindhorstESPN) July 2, 2014
From Yahoo Sports:
Utah Jazz restricted free agent Gordon Hayward is meeting with Cleveland Cavaliers officials in Ohio today, and a lucrative, multi-year offer sheet is expected to be forthcoming, league sources told Yahoo Sports.

Hayward is meeting with the front office and coaching staff today, but owner Dan Gilbert isn't expected to be part of the presentation, league sources told Yahoo Sports.
via Sources: Restricted free agent Gordon Hayward meeting with Cavs, offer sheet forthcoming - Yahoo Sports.
From Ken Berger of CBSSports.com:
If Cavs make max offer to Gordon Hayward, it would be a four-year, $63m deal starting at $14.8m. He made $3.5m last season.

— Ken Berger (@KBergCBS) July 2, 2014
There have been strong indications that the Jazz plan to match the max offer sheet, which would be a mistake. The Jazz are in a rebuilding position and have just added a great perimeter weapon in Dante Exum. They drafted Rodney Hood as a long-term option and could have a flexible, athletic roster. Tying Hayward to that kind of money would set them back. 
A sign-and-trade would be the best thing for both teams, with the Cavaliers conceivably sending Dion Waiters back along with other pieces. Waiters would give them size on the perimeter and the Cavaliers would get a premier small forward weapon to pair with Andrew Wiggins. 
 $14.8 million per year for Hayward is bad value. He shot 40 percent from the field and 30 percent from three last season. But he did average 16-5-5 and can do a lot. If Utah retains him, it's an OK move, but they're not in the rebuilding process where Cleveland is. If Cleveland gets him, it's a great move on two levels: They add a complimentary wing which they need and it shows that they're no longer looking for quick fixes or to jump ahead in rebuilding. It's actually moving towards something. 
Hayward was No. 7 on my list of top wing free agents: 
12. Gordon Hayward, F, Utah Jazz

Strengths: Jack of all trades with considerable upside. Still developing passing and rebounding skills. Natural leader with good scoring instincts. Good athlete whose top-end speed can catch defenders off guard. Quality teammate, low maintenance player who wants to win.

Weaknesses: Master of none. Isn't elite in any one area. Has never made huge strides in passing, rebounding, scoring, or defense. Can be overwhelmed physically by bigger players, caught napping by smarter ones. Makes your team better but what's his long-term role? Has yet to show a willingness to take over the game and always seems to be waiting for someone else to carry out what needs to be done.

Analysis: Hayward is an interesting case, especially given where the Jazz are at in their development cycle. The idea was that Hayward would take a big step forward last year and be ready to emerge as the best player on a young team this next season. It never happened and now he could wind up elsewhere after Utah declined to extend him. He's good enough to demand eight figures per year, but can you win with him at that tier? He's yet to separate himself from his peers.
via 2014 NBA Free Agency: Ranking the top 40 free agents - CBSSports.com.
Irving has requested a trade away from the Cavaliers

The Lakers made a strong push for Rose, but he would have been a backup in Los Angeles

The small forward spent last season with the Sacramento Kings
Knight still has three years left on his five-year, $70 million contract

The Golden State forward is accused of assault, battery and making misleading statements

The Nets get their shooter a year later, and the Blazers reportedly will waive Nicholson