Report: Cavaliers shopping Dion Waiters
The Cavaliers are reportedly shopping shooting guard Dion Waiters to a number of teams.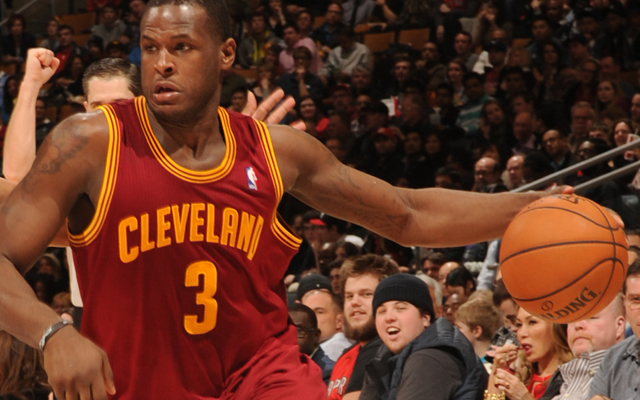 Anyone want a shoot-first volume scoring shooting guard?
According to ESPN.com, the Cavaliers are shopping Dion Waiters, with the Knicks, Bulls and 76ers the most interested of the bunch. 
According to the report, the Cavs are targeting Iman Shumpert from the Knicks, Evan Turner for the 76ers and Luol Deng from the Bulls. The Cavs are "believed" to have reached out to other teams about interest in Waiters as well. 
The former No. 4 overall pick from 2012, Waiters has had an up and down start to his career, struggling with efficiency on the offensive end. According to a report, Waiters also has had issues with teammates, specifically Kyrie Irving. Waiters hasn't requested a trade, but he has reportedly broached the topic with management.
The Cavs recently has a players-only meeting that turned contentious, with Waiters reportedly in the middle, beefing with Tristan Thompson. According to the ESPN.com report:
Irving called the meeting after the game, and every player spoke. When Waiters was given the floor, he criticized Thompson and Irving, accusing them of playing "buddy ball'' and often refusing to pass to him. Thompson took umbrage with Waiters' words and went back at him verbally. The two confronted each other, but teammates intervened before it could escalate into a fight.
Waiters, 21, is averaging 13.0 points and 2.3 assists a game this season.
Beverley handcuffed Lonzo on the court, and the emotion carried into the locker room

Ball's eagerly awaited first NBA game didn't go the way Laker fans hoped

Griffin can still hand out posters with the best of them
The Knicks forward is a bucket-getter in the truest sense of the term

On the TNT broadcast, even Shaq finally admitted that he likes Joel Embiid's game

The Warriors new Nike classic uniforms will be revealed Thursday