Report: Cavaliers wanted Bledsoe, DeAndre Jordan for Varejao
A report surfaced regarding potential asking price for Anderson Varejao and boy is it high.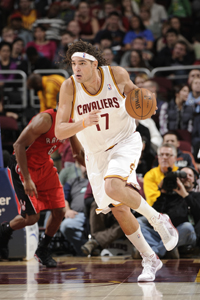 Varejao is injury-prone.
(Getty Images)
Prior to Anderson Varejao's knee injury, the Cavaliers reportedly demanded a sky-high price for him. Specifically, Cleveland.com outlines an offer to the Clippers, who were interested, which is stunning:
To be fair, the Cavaliers were not believed to be actively seeking a trade. Varejao's 14.4 rebounds per game led the league before his injury. They would demand much in return, as evidenced in the most recent trade rumor -- that Cleveland was demanding Clippers guard Eric Bledsoe to be thrown into a proposed DeAndre Jordan for Varejao swap.
So arguably the best backup point guard in the NBA under the age of 26, and a potential Most Improved Player candidate who is an athletic freak of nature in a league desperate for 7-foot defenders. All of this for a player who has repeatedly lost games due to injuries and who has never been a major contributor for a contending team. (He was a terrific role player for the Cavs' contending teams.)
Varejao doesn't have repetitive knee issues, or anything to make you think he's going to miss time due to the same injury. But he has missed a lot of games for a wide series of health issues, and is getting up there in age. That's just a huge asking price for Varejao. But the Cavaliers have been known to do this. They value guys at an extremely high level and drive the hardest bargain possible, or don't move them at all. They have that luxury with their rebuilding position. 
It does make you think that even when Varejao gets back, if it's before the deadline, he's unlikely to move. The Cavaliers value him more than maybe any other team in the league, and that's going to be a major hangup in any trade. 
Rap mogul supports the vision the outspoken father has for his brand and sons

Deciding who to watch on League Pass can be difficult, but these rankings promise to help

Veteran forward signed a one-year deal with the Knicks in offseason
Knicks forward had his truck stolen out of his driveway

The Celtics will send No. 34 to the rafters in Boston when they take on his old rival

It's never too early to look at June's NBA Draft