Report: Cavs' Anderson Varejao has been cleared for training camp
Cleveland Cavaliers' oft-injured big man Anderson Varejao has been reportedly cleared to resume basketball activities when training camp arrives.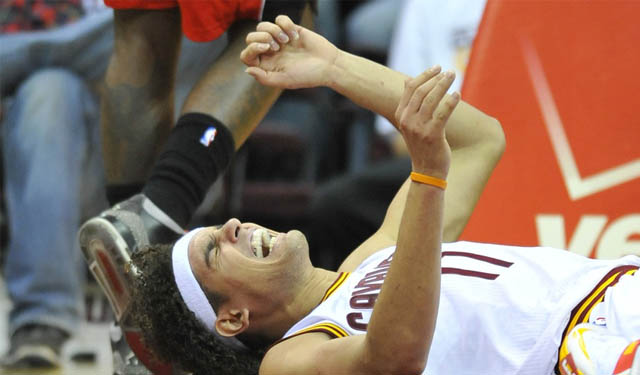 After three years of rebuilding after LeBron James departure from the Cleveland Cavaliers, the team looks like it could be poised to return to the playoffs. The only problem is they have several players that need to buck their respective trends of missing a lot of games. Andrew Bynum is working toward a return to the court after missing all of last season. Kyrie Irving will hopefully have a healthy season after missing at least 15 games in each of his first two seasons. And Anderson Varejao is hoping to recover from a scary blood clot in his leg following a knee injury that ended his 2012-13 season.
According to Terry Pluto of Cleveland.com, Varejao should be back and ready for training camp when it begins in a couple weeks. Pluto said that Varejao has reportedly been cleared for all basketball activities. This would potentially mean that the soon to be 31-year old big man would have a clean slate going into a season with big potential for this Cavs team.
I hear that Anderson Varejao was been cleared for all basketball activities when the Cavs open training camp in a few weeks. Varejao missed 57 games last season because of a leg injury followed by blood clots. In the last three seasons, he has played only 81 games … and missed 149 … due to various injuries. So it's hard to count on him.
Varejao's injury concerns are well documented. He has played a "healthy season" since the 2009-10 campaign when he participated in 76 games. He's only had three "healthy seasons" in his nine-year career in which he played in at least 76 games, twice hitting the 81-game mark. Other than that, he's missed 245 games in the other six seasons of his career with various injuries.
When he does play, he's an incredible role player and fantastic glue guy for the Cavs. While he may have earned a reputation for flopping early in his career, Varejao turned himself into one of the better defensive big men in the league that can hedge and recover on the pick-and-roll, defend the post, defend on the perimeter, and finish defensive possessions off with his rebounding skills. Before he was injured last season, Varejao was averaged 14.1 points and 14.4 rebounds with 5.5 of those rebounds coming on the offensive end of the floor. 
Rap mogul supports the vision the outspoken father has for his brand and sons

Deciding who to watch on League Pass can be difficult, but these rankings promise to help

Veteran forward signed a one-year deal with the Knicks in offseason
Knicks forward had his truck stolen out of his driveway

The Celtics will send No. 34 to the rafters in Boston when they take on his old rival

It's never too early to look at June's NBA Draft