Report: Cavs could pick a trade partner Monday to deal Bynum
The Cleveland Cavaliers are reportedly looking to pick a trade partner by Monday so they can ship Andrew Bynum out of town.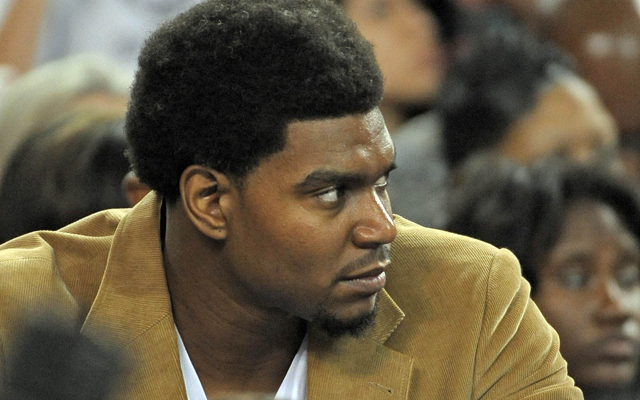 With the team suspending Andrew Bynum briefly, it seemed like only a matter of time until the Cleveland Cavaliers would possibly move the center out of town. Due to conduct detrimental to the team, Bynum was suspended this past Saturday, only to have the suspension lifted on Sunday. He was still excused from the team and isn't expected to be back in the Cavs' plans.
While trade rumors have been flying around involving him and various organizations, the Cavs have been trying to figure out how to get rid of Bynum while receiving something in return. According to Adrian Wojnarowski of Yahoo Sports, the Cavs have offers to sift through and could choose one Monday. They're not expected to deal a major asset along with Bynum.
Cavs mulling a few trade scenarios for Andrew Bynum, with target of Monday to choose one. Unlikely Cavs send out significant asset w/ Bynum.

— Adrian Wojnarowski (@WojYahooNBA) January 3, 2014
Bynum's deal pays him $12.2 million this season and $12.5 million next season. However, only $6 million of that is guaranteed this season. Next season's contract is guaranteed if he isn't waived by July 10, 2014. A team that deals for Bynum now could end up saving money by waiving him after the trade goes through. Any team just over the luxury tax could probably find their way under it just by acquiring him.
The team that acquires Bynum could also try to rehabilitate his knee and make him a productive player again if they need help inside. Then they'd have the option to keep around for next season at a hefty price and either use him or use his expiring contract on the trade market. Most likely, he'll be waived after being acquired.
Warriors' forward doesn't understand the reasoning behind the all-too-common double technical...

Hardaway Jr. gave a 'safe' call like he was an umpire in baseball

Barnes hits the trey with less than a second left to lift Mavericks to dramatic 95-94 vict...
Kevin Durant was once again back in Oklahoma City

Gregg Popovich has never seen an injury lead to the issues that Kawhi Leonard has been fac...

Kobe Bryant, of course, had his 81-point game against Rose and the Raptors back in 2006