Report: Cavs don't want to give Kyrie Irving maximum extension
The Cavaliers reportedly don't see star point guard Kyrie Irving as a maximum-salary player.
• 2 min read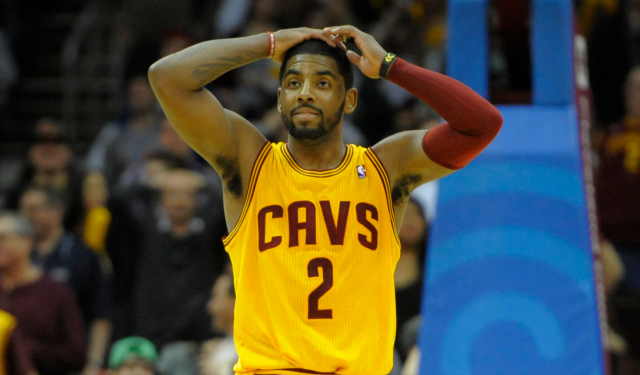 More Offseason Analysis: Coaching changes, news | Free Agency | Draft
Cleveland Cavaliers point guard Kyrie Irving will be eligible for a contract extension this summer, and the team is hesitant to offer him a maximum salary, according to Mitch Lawrence of the New York Daily News:
The Cavs are making noises that they aren't going to offer Kyrie Irving "max money" this summer via a long-term extension. They don't want to deal the 2014 All-Star Game MVP, but it could come to that, especially if the West Orange product and his family continue to tell people that he wants out. Irving hasn't been a leader in his first three seasons and he's also gained the unwelcomed reputation as a locker-room problem. Those are two reasons the Cavs don't see him as a max player.

"He was just handed too much, too soon," said one source. "You've got to make these young guys earn it, and that's where this team did a bad job with him."
It's long been assumed that Cleveland would offer Irving the max. After all, he's just 22 years old and has the skillset of a superstar. While there is room for improvement -- particularly on the defensive hand -- Irving was voted a starter in the All-Star Game this year and walked away from that showcase with an MVP award. Despite the rumors that he wanted to leave the Cavaliers, he spoke positively about a potential maximum deal after the last game of the regular season, via the News-Herald: 
"Obviously, I'm aware I can be extended this summer," he said after the Cavs' 114-85 victory over the Brooklyn Nets on April 16 before 19,842 at Quicken Loans Arena.

"It's a big deal for me if they do offer me that. It will be exciting. I'll make the best decision for me and my family. That's what it will boil down to."

Irving doesn't sound like someone who wants out.

"I've been part of this, and I want to continue to be part of this," he said. "We've made some strides in the right direction, especially as an organization. I want to be part of something special. I don't have a definitive answer to that right now."

The offer is expected to come on July 1.
With a story that's been framed as only about whether or not Irving would sign, it's surprising to see the tables turned in this report. Still, it's premature to assume that Cleveland won't end up giving him max money. It only makes sense for Irving to demand that, and it behooves the Cavaliers to get something done.
Cleveland is trying to accelerate their rebuilding process with the No. 1 pick in next month's draft, and the last thing the franchise needs is uncertainty about the man who is supposed to be the franchise player. Perhaps there will be more of a negotiation than originally thought, but typically young players with Irving's talent end up getting a maximum contract.
A dive into the NBA history books for every result from every NBA All-Star Game

James set the tone during practice that this year's All-Star game was going to be differen...

The 76ers center handled 'mismatches' like they were nothing
LeBron James says he will continue his social activism no matter what people say about him

The 76ers guard is in hot water after a controversial video surfaced showing him using a racial...

LeBron James earned his third career All-Star Game MVP award