Report: Cavs, John Calipari discussed 7-year, $60 million-plus deal
The Cavaliers were prepared to give John Calipari quite the chunk of change to run the team.
• 1 min read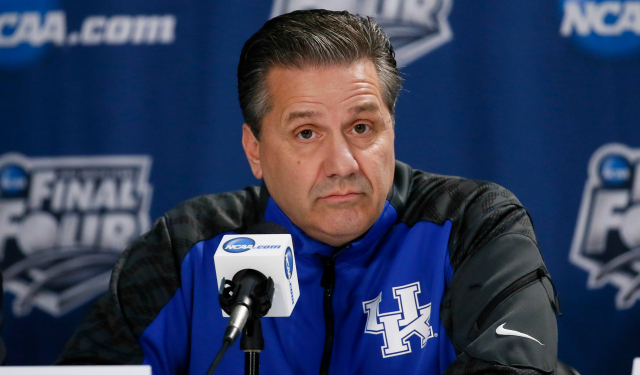 More Offseason Analysis: Coaching changes, news | Free Agency | Draft
UPDATE: ESPN's Marc Stein reported that Cleveland was offering "closer to 80 million range over 10 years." Yahoo Sports' Adrian Wojnarowski reported that, while the offer was for seven years and $60 million-plus, "there was talk of transition to president-only." 
---
Kentucky head coach John Calipari, who signed a seven-year extension last week, discussed a seven-year, $60 million-plus deal with the Cleveland Cavaliers, according to Yahoo Sports' Adrian Wojnarowski and Brett Dawson. The proposed arrangement would have made him the president and head coach, with him having final say over roster moves over general manager David Griffin.
Cavaliers owner Dan Gilbert had been persistent in his pursuit and kept returning to Calipari in an effort to deliver full control of basketball operations, sources said.

Gilbert and Calipari had discussed a package in the range of $8 million-plus a year, sources said, and it wasn't until midweek that Calipari finally rejected Cleveland and fully committed to his seven-year, $52 million extension at Kentucky.
There is a "strong belief" around Calipari that he would have wound up in Cleveland if Wildcats guards Andrew and Aaron Harrison had decided to turn pro, according to Yahoo Sports. The two sides had reportedly "gone deep" in negotiations. 
Immediate reaction: wow. That's a whole lot of money for someone who hasn't been around the NBA since 2000, and whose late-90s tenure as the head coach of the New Jersey Nets was disappointing, to put it mildly. His reputation has completely changed since then, as he has become perhaps the most powerful, influential figure in college basketball.
This isn't just asking him to coach the team, though. It is asking him to run the franchise. That's a tall order, and he just doesn't have the NBA experience of someone like Stan Van Gundy in Detroit. Calipari would have been a splashy hire, and it could have been partially motivated by his relationship with LeBron James. Giving him this much control would have been a huge, huge risk.
Cleveland has reportedly tried to lure Michigan State's Tom Izzo and Florida's Billy Donovan from the college ranks, as well. The Cavs have interviewed Alvin Gentry, Tyronn Lue, Lionel Hollins and Adrian Griffin for their vacant head-coaching position.
A report last week indicated Charlotte is looking to move Walker, along with one of its hefty...

Barea responds by claiming that none of Wall's teammates like him; the Wizards continue to...

Cousins finished with 44 points, 24 rebounds, and 10 assists
Love left Saturday's game, which the Cavs lost 148-124, due to illness

Kidd was fired by the Bucks on Monday afternoon

We've got all the scores, highlights and news from an NBA Monday