Report: Cavs to set up meeting with Kyrie Irving on July 1, offer max deal
Cleveland reportedly intends to offer star guard Kyrie Irving a maximum contract extension as soon as it is allowed to.
• 1 min read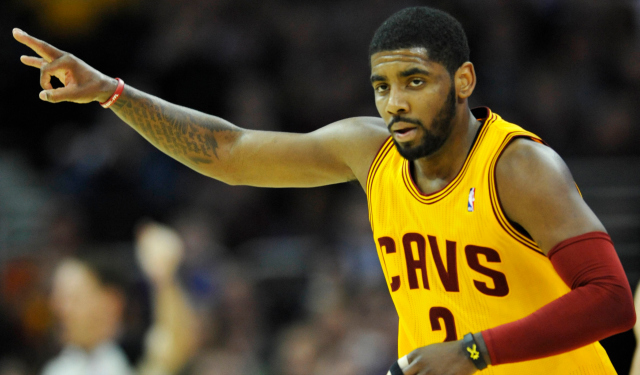 More Offseason Analysis: Coaching changes, news | Free Agency | Draft
Contary to a recent report, the Cleveland Cavaliers intend to offer point guard Kyrie Irving a maximum contract extension as soon as they are allowed to do so, according to the Plain Dealer's Terry Pluto:
My sources tell me that the Cavs have had no doubts about offering Irving the 5-year deal, and will do so. Once July 1 arrives -- the first date that an extension can be offered -- the Cavs will set up a meeting with Irving. They will present their All-Star guard with a contract extension, a 5-year deal in the $90 million range (or whatever is the maximum number).

…

The Cavs' goal is to have a new coach in place. Then have General Manager David Griffin, the coach and Irving discuss the future. Now, if Irving doesn't seem interested in an extension, that could lead to a trade.
Cleveland has not been informed that Irving wants out, according to the Plain Dealer, so it makes sense to try to lock him into a deal for as long as possible. Irving not a flawless player -- his defense is a problem, and he should be a better passer with the way he sees the floor -- but he's too talented to handle this situation any differently.
It would be understandable if Irving had reservations about committing to the Cavaliers long-term, as the organization has not surrounded him with the proper pieces to make a playoff run. This year was supposed to be the season where they took the next step, and it did not happen. Still, max money is hard to turn down, and if Cleveland nails its coaching hire, the future will be look pretty good with another No. 1 pick on the way. Even with all the rumors about being unhappy there, it would be surprising if the two sides couldn't work something out. 
The inaugural BIG3 season comes to a close Sunday with the championship game

Thomas was traded to Cleveland yet some fans are taking it out on him ... and his jerseys

The Celtics dealt the No. 1 pick to Cleveland as part of the Kyrie Irving-Isaiah Thomas tr...
Thompson was rumored to have been a point of discussion with the Cavs regarding Kyrie Irvi...

What the Celtics and Cavs look like after the Eastern Conference powers swap point men

Simmons was the No. 1 pick in the 2016 NBA Draft but did not play last season