Report: Cavs trying to line up Kevin Love trade if they get LeBron
Cleveland reportedly wants to pair Kevin Love with LeBron James. Sounds like a good plan.
• 1 min read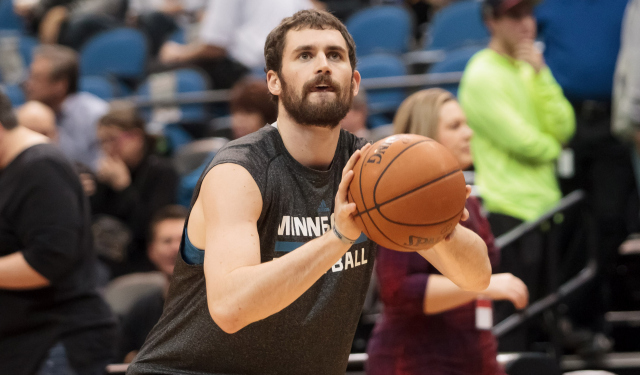 More Offseason Analysis: Coaching changes, news | Free Agency | Draft
The Cleveland Cavaliers are trying to pair free agent forward LeBron James with Minnesota Timberwolves forward Kevin Love, according to Yahoo Sports' Adrian Wojnarowski.
Cavaliers are pursuing a Kevin Love trade with Minnesota, contingent on the signing of LeBron James, league sources tell Yahoo Sports.

— Adrian Wojnarowski (@WojYahooNBA) July 9, 2014
Cleveland has long been seen as a potential destination for Love. The Cavaliers want to compete next year, and the No. 1 pick -- now Andrew Wiggins -- is attractive to the Wolves. There were a couple of question marks, though. First, would Love commit to staying in Cleveland? If James was coming, too, then he presumably would. Second, would the Cavs give up Wiggins? If getting Love would make the situation more enticing for James, they presumably would.
Re: possibility of Cavs landing Kevin Love to further entice LeBron, the Andrew Wiggins camp doesn't believe he's being considered as piece.

— Sam Amick (@sam_amick) July 9, 2014
If the Cavaliers don't want to include Wiggins in a deal, it's hard to come up w/a scenario where Wolves agree to part with Love.

— Jon Krawczynski (@APkrawczynski) July 9, 2014
Like almost everything else in free agency, James has the power here. If he decides he wants to go to Cleveland and play with Love, then the Cavs have all the motivation in the world to get this done. If not, then no one can be sure how Love's uncertain future will continue to hover over the Wolves franchise.
The Bulls lead by three with 10 seconds left but lost 116-115

Larry Nance Sr. starred for Cleveland from 1988-94

The hotline comes in the wake of the 'Sports Illustrated' investigation into the Dallas Ma...
Giannis, who spent last weekend in L.A. for the All-Star Game, says he loves 'low-key' Mil...

We have all the scores, highlights and news from the first day back from the All-Star brea...

Smart, set to return Friday, said doctors told him he was very lucky that the glass did not...