Report: Cavs want assets for Love trade, Nuggets 'strong contender'
Cleveland is reportedly willing to include Andrew Wiggins in a Kevin Love trade, but the Wolves want more.
• 2 min read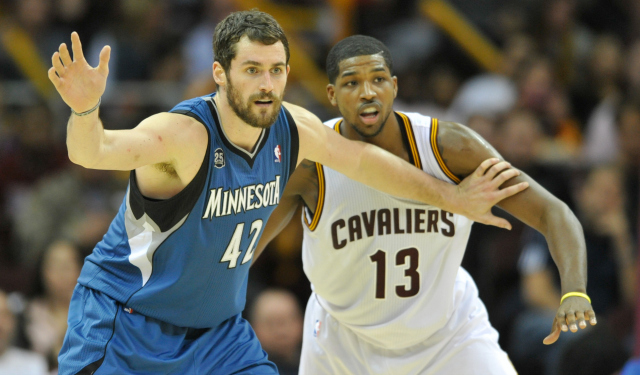 More Offseason Analysis: Coaching changes, news | Free Agency | Draft
The Cleveland Cavaliers are trying to acquire non-guaranteed contracts in order to give the Minnesota Timberwolves cap relief in a trade for Kevin Love, according to Yahoo Sports' Adrian Wojnarowski.
Cleveland's discussions with Minnesota have escalated with the Cavaliers' willingness to include No. 1 overall pick Andrew Wiggins in the deal, sources said. Without Wiggins, there's no other combination of Cleveland players and picks that would interest Minnesota. Once Wiggins signs his rookie contract, a trade involving him can't be formally completed for 30 days.

…

The Denver Nuggets have remained a strong contender for Love, offering a package that sources said has been the most appealing to Minnesota outside of the Cavaliers and a possible Golden State deal including Klay Thompson. So far, the Warriors have kept Thompson out of their offer to Minnesota.

Minnesota wants a package for Love to include guard J.J. Barea, who has $4.5 million left on his expiring deal – and possibly guard Kevin Martin, who has three years and $21 million left. As part of a larger deal, the Cavaliers want to include 2013 No. 1 overall pick Anthony Bennett and a future No. 1 pick for Love.

The Cavaliers have been offering future first-round picks for an experienced center, league sources said.
Let's start with the Cavaliers wanting non-guaranteed contracts. SB Nation's Mike Prada pointed out that Cleveland had two of them, belonging to Scotty Hopson and Alonzo Gee, earlier in the offseason, but elected to trade both. Now the Cavs will have to give up other assets. Wonder if they've talked to the Boston Celtics about Keith Bogans and his fully unguaranteed $5.3 million deal.
The Nuggets remain the darkhorse here. While the Love sweepstakes have been discussed as a Cleveland vs. Golden State scenario, there are certainly other suitors. Chicago is one, but it's also easy to see how Denver could come up with something appealing to Flip Saunders. The issue there, if the Nuggets manage to trump the other offers, is whether or not Love would commit to re-signing.
The Cavs wanting an experienced center is also no surprise. They're pretty much set in the backcourt and on the wing, but Cleveland's best rim protector is probably LeBron James. While it would be great if Anderson Varejao could remain healthy and play the bulk of the center minutes, it wouldn't be wise to count on that. Teams aren't generally desperate to trade good centers, though, and it might be smarter to go the free-agency route and see if someone like Emeka Okafor or Ekpe Udoh would play for the minimum.
Mike D'Antoni and Blake Griffin's altercation turned out to be the tip of the iceberg for a...

The former Clipper apparently had some tricks up his sleeve after a chippy game

The Rockets were apparently looking for Austin Rivers and Blake Griffin after a chippy gam...
If they don't meet in the Finals again, let's appreciate every one of the 27 matchups since...

D-Wade picked up the steal and got creative on the fast break as the Cavs headed into half...

Despite the embarrassing hiccup, the youngest Ball had himself a pretty great day on the c...