Report: Cavs would trade Wiggins, Bennett for Love
Cleveland would reportedly do just about anything for Love.
• 1 min read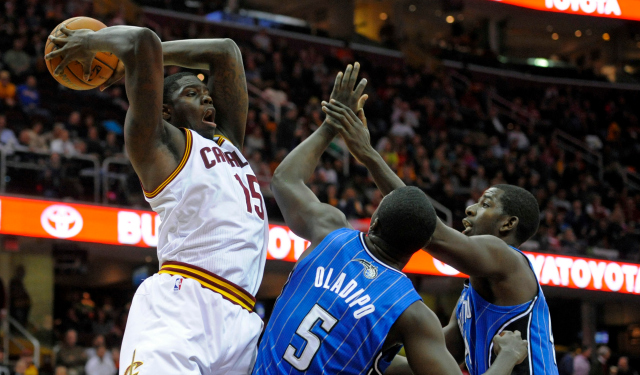 More Offseason Analysis: Coaching changes, news | Free Agency | Draft
The Cleveland Cavaliers could trade the last two No. 1 overall draft picks -- Andrew Wiggins and Anthony Bennett -- to the Minnesota Timberwolves in a Kevin Love deal, according to ESPN's Chris Broussard:
In an attempt to add Love, a three-time All-Star, the Cavaliers are willing to part with Andrew Wiggins and Anthony Bennett.

One source said the Cavs also are willing to give up a first-round draft pick for next season. Any other players involved in the talks are not known.

At one point, a trade seemed close to happening, but Minnesota wants more than the Cavaliers are currently offering, sources said.
Also in the report: the Golden State Warriors still won't give up Klay Thompson, instead offering David Lee and Harrison Barnes, and there's a sense that Minnesota is trying to get the Cavs and Warriors to drive up the price. Sure.
This thing is dragging on but it's not that complicated: if Cleveland is actually offering Wiggins and Bennett, the Wolves should pounce. Take the Canadians and run. Trading a superstar is tough, but there's no better return than a potential future star in the first year of a rookie contract. Just getting Wiggins is enough. If the Cavs would include, Bennett, too, after his strong summer league? And maybe throw in an additional first-round, pick? That would be a hell of a haul. 
There's no way for Minnesota to trade Love and improve in the short term, but the goal should be to set the organization up for sustainable success down the road. That's what this would do. A core of the 23-year-old Ricky Rubio, 19-year-old Wiggins, 21-year-old Bennett and 19-year-old Zach LaVine would be something worth watching. 
For Cleveland, it'd be a lot to give up but it would almost certainly increase its chances of competing for a title immediately. If this is what LeBron James wants, there's not much point in arguing that it'd be best to be patient. 
Two underperforming squads will square off on Saturday afternoon

The West's two top teams will meet in prime time on Saturday night

Our advanced computer model simulated Saturday's Thunder-Cavs game 10,000 times
The Jazz are reportedly looking into trading Rodney Hood before the Feb. 8 NBA Trade Deadl...

The Cavaliers appear ready to reset everything if necessary

It sounds like the Cavaliers are going to be active before the NBA trade deadline on Feb....