Report: Celtics are 'not making trading Rajon Rondo a priority'
Boston wants to see how Rondo looks a full 18 months after surgery, in no rush to move him ahead of free agency.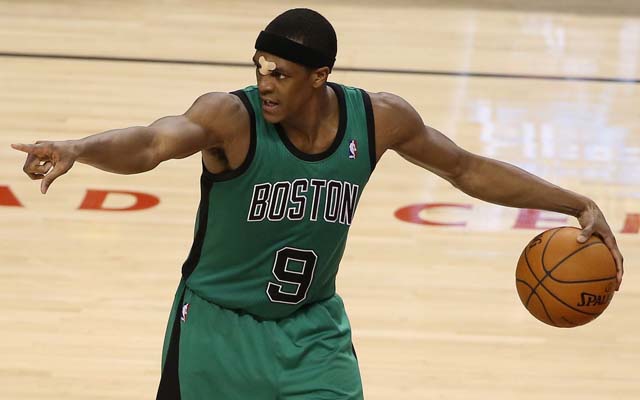 The Boston Globe reports that the Celtics are not making trading Rajon Rondo a priority, in the latest of the nearly tri-daily updates on whether Boston will trade the former All-Star point guard. Check back in a few hours when they will totally be talking to the Kings again. 
While the Celtics are trying to figure out ways to clear roster space before training camp, moving Rondo is not a high priority. First off, Rondo will be a free agent next summer and fully intends on taking the LeBron James-Carmelo Anthony tour of teams and extending the negotiation process deep into next summer. It is highly unlikely Rondo would sign an extension this season with an interested team, especially the Sacramento Kings. Second, the Celtics don't feel pressed to deal Rondo because they are still trying to determine if he's part of the future and they are intrigued to see him in action a full 18 months following ACL surgery.
via Notes: Celtics' Avery Bradley keeping a healthy outlook - Sports - The Boston Globe.
So the dance will drag on as Rondo heads toward free agency ... and that, maybe is where the real "news" starts. 
The fact that Rondo isn't looking for security or a commitment from Boston, and instead wants to "test the waters" or "experience free agency" as the kids are saying these days. That means he'll likely get the whole "tour other cities, solicit offers." He's not going to get the Carmelo Anthony or Dwight Howard treatment, but it does decrease the odds that he'll re-sign with Boston.
And knowing that, that coud decrease the trade market for him. Kevin Love was in a similar position, but forced his way out, which meant teams has to make a move. Rondo on the other hand is slow playing it, and Boston may have gone past the point where they can reasonably move him. 
If they traded him now, they'd still get good return, particularly to the Kings, who have been chasing him for so long. But this may be reaching a point where the Celtics simply aren't going to move him, which might make him the player with the longest tenure of being consistently involved in trade rumors to never actually be moved. Either way, something's going to happen with Rondo in the next year. 
Thomas spent a day with a 10-year-old girl whose family is also new to Cleveland

Barkley did not hold back with his opinion of the Big Baller Brand patriarch

We have all the latest scores, highlights and news from Wednesday's NBA games
LaVar Ball also made it clear he thinks his sons are being placed in 'a great situation'

The Thunder are just 12-14 on the season, despite the addition of Paul George and Carmelo...

The then-Heat teammates squared off during the 2011 ECF, but Erik Spoelstra put a stop to the...