Report: Celtics, Clippers discussing Doc Rivers, Kevin Garnett trade
The Celtics and Clippers are reportedly working on a blockbuster trade that involves Doc Rivers.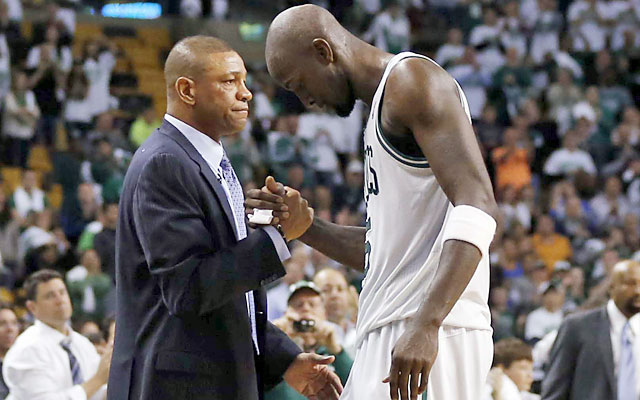 The Celtics and Clippers could be closing in on a unique blockbuster trade that includes sending coach Doc Rivers to Los Angeles.
According to Yahoo Sports, the Celtics and Clippers are "deep" in trade discussions involving Rivers and Kevin Garnett. ESPN.com reports that Paul Pierce is being included in some discussions. 
The Celtics would acquire DeAndre Jordan and two first-round picks, according to the report. The hang-up is the Clippers' reluctance to include Eric Bledsoe. 
As Ken Berger of CBSSports.com reported Friday, Rivers has a clause in his contract that prevents him from walking away from the Celtics and going to another team without compensation for the team. Thus, the reason Rivers is being included in these trade talks. 
Rivers has three years and $21 million left on his current deal. 
Garnett has a no-trade clause in his contract, but would be willing to waive it, according to the report. 
The Celtics are looking to come to a conclusion on this quickly, and reportedly want a deal in the next day or two or they may walk away. 
This composition is absolutely amazing

Stephen Curry, who grew up in North Carolina, wants to be part of the next Panthers ownership...

Vince Carter is destined for a Raptors reunion; he doesn't know when it'll happen
Thomas has a target date for his return, and with the Cavaliers scorching, this could be h...

LeBron James once again is using his platform to be socially active

Not many games, but still plenty of action and intrigue Sunday in the Association