Report: Celtics 'likely' to buy out Paul Pierce, make him free agent
The Celtics reportedly will buy out Paul Pierce's $15 million contract and make him a free agent after 15 seasons in Boston.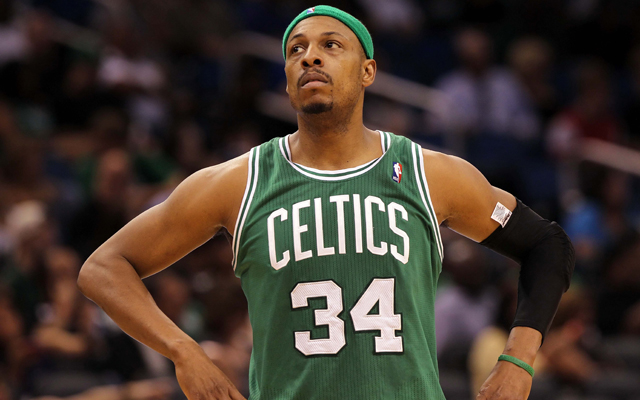 The Ohio News-Herald is reporting that Danny Ainge is "likely" to buy out the Celtics' Paul Pierce this summer for $5 million, releasing the franchise player into the free-agency wild. 
Sources indicate Celtics director of basketball operations Danny Ainge will likely buy out forward Paul Pierce's $15 million contract for next year ($5 million is guaranteed). If that happens, [the Cavs] should be first in line to try to acquire Pierce's services. However, before anyone gets too giddy, Pierce will likely want to go to a serious contender.
via Bob Finnan's NBA notes: Noel, McLemore, Porter best options for Cavs at No. 1 - news-herald.com.
The decision to waive Pierce will be difficult for many Celtics fans to swallow should it come to fruition. Pierce has been with the franchise for 15 seasons. He's "The Captain." It would be flat-out remarkable to see Pierce in another uniform. 
It's a bit early to be planning the wake for Pierce's Celtics career, though. There have been few indications from Boston media that the Celtics have reached a decision. They also run the risk of alienating Kevin Garnett, who has been adamant about wanting to play with Pierce for the rest of his career. Big decisions lay ahead in the next month and a half for the Celtics, but the reports seem to be leaning towards Pierce being headed for the big green exit. 
HT: HoopsHype
Chris Paul sat out the fourth quarter of the Rockets win due to an apparent knee injury

Durant couldn't quite get the shot off in time, and the Rockets prevailed

Draymond Green walked off the floor limping and rubbing his knee in the third quarter
Golden State raised its second banner in three years. Now they start their run for another

Hayward's injury left the Celtics shocked for a moment.

The 11-carat rings hold more diamonds than any other ring awarded in any other major sport...