Report: Celtics looking to trade Gerald Wallace, Kris Humphries
The Boston Celtics are reportedly looking to deal Gerald Wallace and Kris Humphries immediately after trading for them.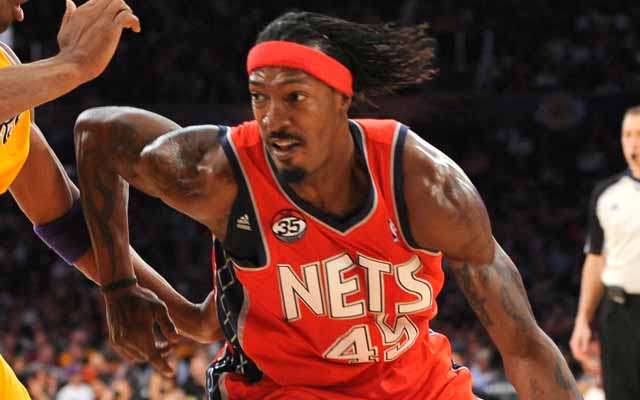 In what should come as a surprise to absolutely no one, CSN New England reports that the Celtics are looking to move veterans Gerald Wallace and Kris Humphries, whom they just officially acquired on Friday from Brooklyn in the Kevin Garnett-Paul Pierce deal. 
Among the players coming to Boston are Gerald Wallace and Kris Humphries. However, CSNNE Celtics insider Sherrod Blakely has learned that the team may be looking to deal those two. Wallace has three years left on his contract, while Humphries has only one year left on his.

The Celtics currently have more players than they can keep on the active roster, thus the possibility of trades. 
via Blakely: C's look to deal Wallace & Humphries | Comcast SportsNet - CSNNE.com.
But seriously, though. Danny Ainge says they're not tanking. 
Anyway, moving these two could prove to be difficult. Wallace really struggled last year, and the perception is that age (he'll turn 31 in two weeks) has taken from him the athleticism that made him an impact player. Humphries is decent enough as a reserve power forward but is significantly overpaid at $12 million next season. He's not great defensively and comes with a powerful dislike from people that borders on the irrational. 
That said, the Nets managed to move both of them, and get KG and Pierce back, so, you know, anyone is tradeable. 
If the Celtics get a deal, it'll be for young players and draft picks, even second-rounders.
Known for his 'take that for data' rant, the Grizzlies coach touched on a number of important...

Wade's days with the Chicago Bulls appear to be numbered

Misty Suri will reportedly keep his job with the New Orleans Pelicans
The MVP has better things to do with his time, but the former NFL receiver isn't taking 'no'...

Randolph was arrested last week in Los Angeles on felony marijuana charges

Bagley wants to be in the 2018 NBA Draft and should be the No. 1 overall pick