Report: Celtics' mystery trade target was Sixers' Jahlil Okafor
Didn't see this one coming. At all.
• 1 min read
Boston Celtics general manager Danny Ainge said on the radio Friday morning that the team almost traded the Brooklyn Nets' 2016 first-round draft pick in a deadline-day blockbuster, but the other team backed out. He also indicated that the trade target was not the subject of any rumors, so it would have surprised people.
That trade target was Philadelphia 76ers rookie Jahlil Okafor, according to Steve Bulpett of the Boston Herald.
Five thoughts:
1) Boston was where Okafor got into a fight earlier this season, so we would have heard all about that again. Ugh.
2) I'm a little surprised the 76ers didn't do the deal. Okafor is a promising talent, for sure, but if Joel Embiid is healthy next season, one of their three young bigs -- Okafor, Embiid or Nerlens Noel -- would end up on the trade block. I'm not sure that Philadelphia will get a better return than the Brooklyn draft pick. 
3) My oh my, Okafor on the Celtics would have been interesting. They don't have any players remotely like him, so there would certainly be an adjustment period. He is an excellent post player, though, and coach Brad Stevens has already proven great at covering up players' defensive weaknesses. It wouldn't necessarily have worked out, but considering Okafor is just 20 years old, Stevens would have relished the chance to develop him. 
4) When Ainge said that it wasn't a no-brainer for Boston, well, no kidding. If the draft pick lands in the top three, there's a good chance the Celtics will be able to get comparable talent. This would have been a bold move for both teams. 
5) You have to wonder why the Sixers backed out, and who had the most to do with that. Were president Jerry Colangelo and general manager Sam Hinkie on the same page here? Did Philly fear the reaction if it traded away another top pick? I'm not saying that the front office did the wrong thing, but I'm interested in the process.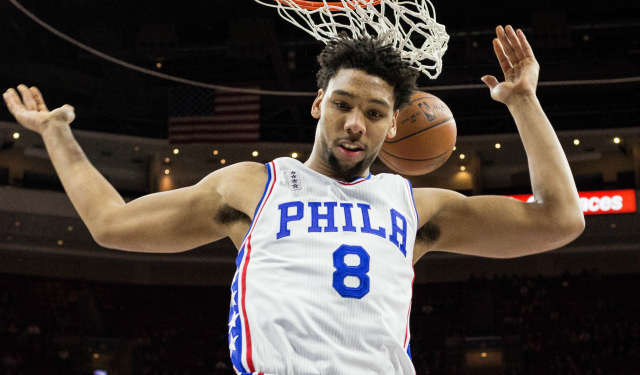 The former Clipper apparently had some tricks up his sleeve after a chippy game

The Rockets were apparently looking for Austin Rivers and Blake Griffin after a chippy gam...

If they don't meet in the Finals again, let's appreciate every one of the 27 matchups since...
D-Wade picked up the steal and got creative on the fast break as the Cavs headed into half...

Despite the embarrassing hiccup, the youngest Ball had himself a pretty great day on the c...

The players were both ejected in the closing seconds, then continued their discussion off the...