Report: Celtics' offer for Kevin Love 'probably the best'
Boston is reportedly offering the No. 6 and No. 17 picks in this year's draft, plus future first-round picks and young players for Minnesota's Kevin Love.
• 1 min read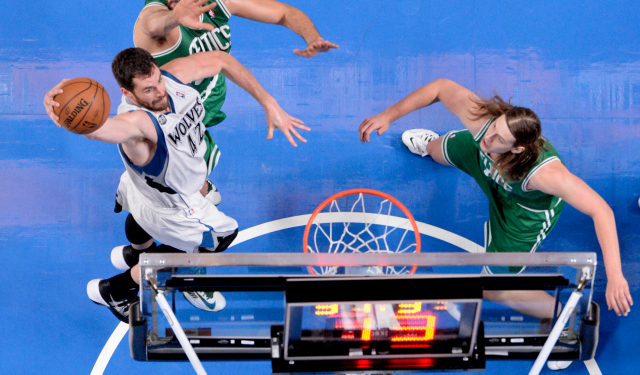 More Offseason Analysis: Coaching changes, news | Free Agency | Draft
The Boston Celtics are offering the Minnesota Timberwolves a bunch of young players and draft picks for Kevin Love, and it might be enough to get a deal done, according to ESPN's Chad Ford:
I continue to get strong signals that the Celtics are trying hard to use pick No. 6 and 17 along with future No. 1s and young players such as Jared Sullinger or Kelly Olynyk to persuade the Minnesota Timberwolves to trade them Kevin Love. One source close to the Wolves said that while Flip Saunders does not want to trade Love, he realizes the team likely will lose him this summer and the package the Celtics are offering is probably the best he's going to get. Given the strength of the draft, picks 6, 13 and 17 could land them three young starters to help them rebuild their roster quickly.
"Probably the best he's going to get?" Well, I guess that's not a terrible package. Saunders reportedly coveted Kelly Olynyk in last year's draft, and Jared Sullinger is still 22 years old. In their short NBA careers, though, neither have looked like game-changers. In this year's draft, Wolves would be able to get a high-potential guy at No. 6, and another pretty good player at No. 17. This shows that the Celtics are serious, but the idea that it's the best possible offer seems questionable. 
Is Cleveland going to offer its young players and picks? Would Houston give up Chandler Parsons and Terrence Jones? Might the Warriors surrender Klay Thompson and Harrison Barnes? What about the Suns, who have the No. 14 and No. 18 picks and a number of good assets? Or the Bulls, who have No. 16 and No. 19 and are reportedly open to talk about trades involving anyone not named Derrick Rose?
It's no secret that Boston and Love are flirting with each other. It's also in Minnesota's best interest to get something done on this front in the relatively near future. The draft is on June 26, and reports like this one put pressure on other teams to get their best offers in before then. Those could realistically be better than what the Celtics are putting on the table.
Trump rescinded Curry's invitation to the White House after Curry said he wasn't interested...

Silver said he was hoping Warriors would get chance to share their views directly with the...

Along with the Thunder, those were the three teams most involved in the Anthony trade talk...
LeBron said he was frustrated by the President's recent actions

A look at the various actors and elements in the latest sensational blockbuster trade in the...

Blockbuster deal doesn't change the Thunder's projected finish in the West