Report: Celtics, Rockets discussing Omer Asik deal for players, pick
The Houston Rockets and Boston Celtics are reportedly discussing a trade for Omer Asik that could send Brandon Bass, Courtney Lee, and a pick to Houston.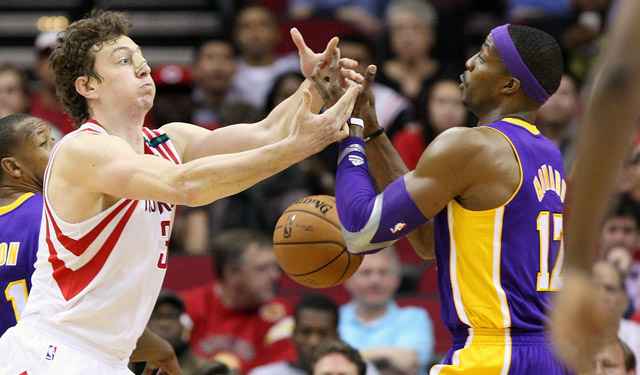 It seems like nothing can happen until the Houston Rockets decide where to trade Omer Asik, and what they should accept in return for him. He's the biggest trade domino to have to tumble since the Raptors moved Rudy Gay earlier this month. As the rumors begin to fly around Asik and where his next team will be, the Boston Celtics have reportedly jumped into serious discussions about acquiring the defensive center.
Adrian Wojnarowski of Yahoo Sports is reporting the Celtics and Rockets could potentially swap Asik for Brandon Bass, Courtney Lee, and a first round pick. Lee may be routed to the third team but details on that are murky. 
Serious talks on Boston-Houston package for Asik have included Brandon Bass, Courtney Lee and a 1st round pick, sources tell Yahoo.

— Adrian Wojnarowski (@WojYahooNBA) December 18, 2013
If such a package were to come together, it is unclear if Lee would go to Rockets or be routed to a third team.

— Adrian Wojnarowski (@WojYahooNBA) December 18, 2013
You can assume the first round pick heading toward Houston would have to be heavily protected in the first round and would give the Rockets yet another trade asset in possibly trying to secure a third star player. Bass would give the Rockets a power forward that can decently spread the floor, as he was a nice pick-and-pop option from 18 feet for years with the Celtics. If they decide to keep Lee, he could give them some depth on the wing.
For the Celtics, this move would mean starting to fix a defensive presence inside that simply isn't there with Vitor Faverani, Jared Sullinger, and Kelly Olynyk. Adding an interior defender and a good rebounder would be a nice boost to a team with possible playoff aspirations this season, even though many believe they should be rebuilding. 
Thomas took to Twitter to let the Celtics know he doesn't want to ruin Pierce's night

The Hall of Famer was a seven-time All-Star with the Celtics, and was MVP of the 1976 Fina...

It's rare to see a legit punch in an NBA fight, but this was definitely one of them
We've got all the scores, highlights and news from an NBA Tuesday

The former Slam Dunk Contest champion will take his talents to Tri-State

Do NBA players have look-a-likes from famous paintings? We found out on the new Arts & Culture...