Report: Celtics still aggressively pursuing trade for Kevin Love
Boston still thinks it has a great chance of acquiring Kevin Love in a trade.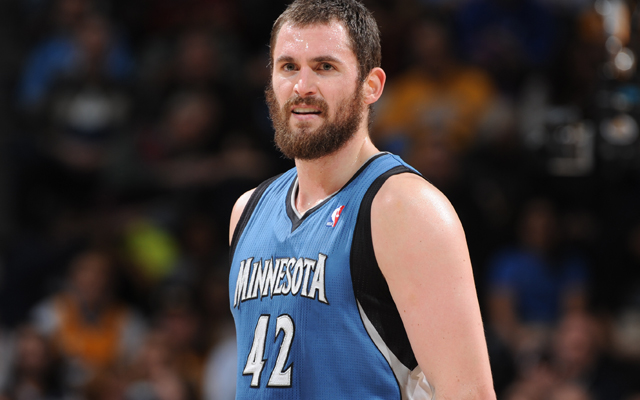 More Offseason Analysis: Updating Free Agency news | Top 40 free agents
The Boston Globe reports that Boston Celtics GM Danny Ainge is still actively pursuing a deal to trade for Kevin Love. 
However, a league source said Monday that president of basketball operations Danny Ainge is attempting to gather assets to acquire Kevin Love, convinced he can devise a package that would entice Minnesota Timberwolves president Flip Saunders to move the three-time All-Star, who will be a free agent next season.

Ainge admitted that things have been quiet so far, and of course was reluctant to discuss anything dealing with free agency.

"You never know what to expect," he said Monday as the Celtics dropped their summer league contest to the Pacers. "When you have conversations, I have a great deal of respect in the league and what they're all trying to accomplish. I don't know what's going to shake out when it's all said and done."

When asked if he was pleased with the current state of the team, he said, "There's a lot more to do. It's a long summer."

According to two NBA sources, Ainge has been dogged in his pursuit of Love, and several agents believe he has the creativity to put together an attractive package.
via Danny Ainge still working on Kevin Love deal - Sports - The Boston Globe.
Love visited Boston during the playoffs and there was rampant speculation that he was visiting to scout out he city as a potential destination.
Trade talks heated up with the Timberwolves finally being open to trading him in early May. The Celtics were an early leader, but talks cooled when it seemed the Celtics weren't offering enough in mid-June. The Warriors have been considered the clubhouse leader. But they have repeatedly balked at the inclusion of Klay Thompson, and also of sending a draft pick. 
The Celtics meanwhile can offer a bevy of young players and picks. They have the Nets' picks for several seasons, their own picks, James Young as a rookie, could conceivably send Marcus Smart along with Jared Sullinger and some combination of young players including Kelly Olynyk, Vitor Faverani, and Phil Pressey. It's a slew of young assets, perfect for a rebuilding team, but the fact the Warriors have been so involved indicates that the Wolves are looking more towards a lateral move rather than a rebuilding process. 
The biggest problem is the lack of a bluechip prospect. Trading Smart is dangerous when you don't know what you have with him yet. You can't send a top-five player who could conceivably be better than Love (though it's unlikely). Then you're looking at Jared Sullinger, who has a major back injury and whose overall game isn't elite. There is no Al Jefferson in a possible deal like there was with the Kevin Garnett trade. 
The offer from the Celtics will have to be massive. That's why there hasn't been a deal yet. The Celtics don't have a good enough player now, the Warriors don't have enough assets and are playing hardball. But it's interesting that the Celtics are still so invested. 
Kris Dunn somehow took a chunk of the Bulls court out with his teeth, but didn't lose any in...

The fallout from the Rockets-Clippers tussle continues; no Clippers were disciplined

DH12 is picked for free throws after a teammate gets ejected. He makes both, and lets Scott...
Bell was injured defending a Robin Lopez dunk and had to be taken off the floor in a wheel...

Trevor Ariza and Gerald Green are reportedly both suspended two games

We've got all the scores, highlights and news from Wednesday night