Report: Celtics think they need a coach to reach Rondo
Can Rajon Rondo and Brad Stevens get along? The Celtics are reportedly looking for a coach to help deal with the surly point guard.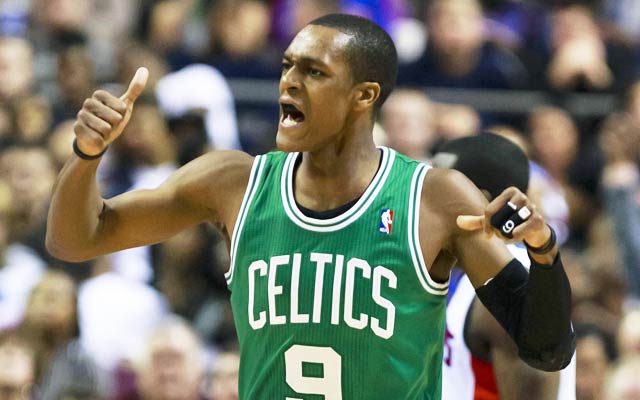 When Brad Stevens was hired as the new coach of the Boston Celtics, there were shockwaves throughout basketball. But once the shock started to subside, the biggest question was "How is Rajon Rondo going to like this?" The notoriously surly point guard has been coached by a former NBA player and veteran personality in Doc Rivers and still bristled. How would he respond to being coached by a college coach three years younger than his mentor, Kevin Garnett? 
Positive words were spoken afterwards, about Rondo being "open" to Stevens' approach, and Stevens going out of his way to talk about Rondo and what he wants to bring to their relationship. But the Boston Globe reports that this is still a major area of concern for the team. 
NBA source familiar with #celtics say team desperately needs another asst coach who can bond with Rondo, someone he can relate to and trust

— gary washburn (@GwashNBAGlobe) August 18, 2013
That's not a good sign. Especially the phrase "desperately." 
Rondo will play, once he's fully recovered from ACL surgery (and he was starting on-court activities in the playoffs so he should be good to go). And he'll be good. But his back is against the wall in a lot of ways. He's got a new young coach on a team that's clearly rebuilding. He's been abandoned by Kevin Garnett and Paul Pierce. The two have provided him advice for going forward, but that's still a safety net he's now without. Whatever conflicts Rondo and Rivers may have had, there was still love there. Rivers is the only pro coach Rondo has ever really known. 
And now he's starting over, and Kris Humphries may be the fourth best player on the team. 
It's going to get rough. What's worse, Rondo really needs things to go well with Stevens for him to not get saddled with further attitude issues. Those can complicate your career further on. We'll see if the Celtics bring in a "handler" for Rondo or simply make a go of it and hope for the best. 
A look at the ups and downs for various suitors as Bledsoe has left the team.

Mike McClure, a DFS pro with more than $1M in winnings, gives optimal DraftKings and FanDuel...

Eric Bledsoe will not be playing against the Kings. Could there be more to come?
J.R. Smith back in the starting lineup after Dwyane Wade's early struggles to start the se...

Travis Schlenk, a former Warriors exec, told CBS Sports' Bill Reiter that Golden State tanked...

The ex-Warriors assistant GM shares his philosophy on scouting and why Golden State had so...