Report: Channing Frye agrees to 4-year, $32 million deal with Magic
Magic bring on veteran stretch four to boost locker room and provide shooting.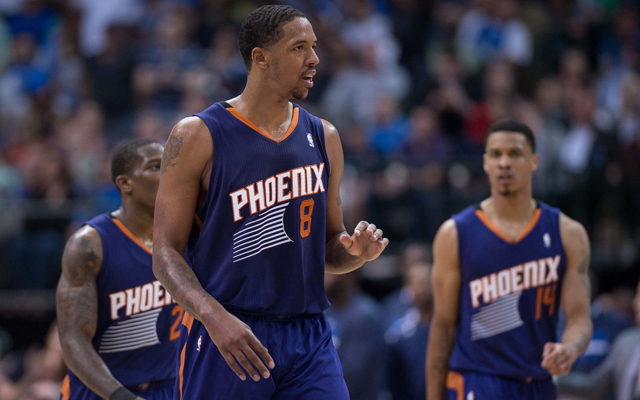 More Offseason Analysis: Updating Free Agency news | Top 40 free agents
Yahoo Sports reports that the Orlando Magic have reached a four-year, $32 million agreement with veteran stretch four Channing Frye. 
Frye, 31, averaged 11 points and five rebounds last season for the Suns. He hasn't shot worse than 34 percent from 3-point range in the past five seasons, and outside of missing 2013 with a heart condition that was found, he hasn't played fewer than 64 games in a season. 
The move is one to improve for the Magic, adding a veteran shooter. The question after the Magic's draft, which included non-shooter point guard Elfrid Payton and non-shooter 3/4 Aaron Gordon, was how they would put the ball in the basket. Now they have a legit stretch four to spread the floor next to Nikola Vucevic, along with versatile scorer Tobias Harris. 
The contract is at good value, as well. Frye was targeted by several contenders including the Warriors, Suns and Rockets, as well as the Cavaliers. Frye's $8 million per year deal means that if the experiment in Orlando doesn't work, they can retool fairly quickly, packaging Frye, Ben Gordon's one-year-guaranteed, two-year, $9 million deal along with a pick for an upgrade or take on money if they look to rebuild further through the draft. 
And if it works, it could be great. Frye is a phenomenal shooter off the catch, in the 93rd percentile of all pick and pop shooters last season, according to Synergy Sports. With the athleticism of Payton, Oladipo, Gordon and Vucevic around him, along with Harris, the Magic could take a step forward. He's also a positive force in the locker room, something that several league insiders have hinted could be useful in Orlando's young locker room.
Jonah Keri talks with NFL and NBA broadcaster Ian Eagle

SportsLine simulated Wednesday's Nuggets-Clippers game 10,000 times

Galin Dragiev has his finger on the pulse of the Lakers and just locked in a play for Wedn...
No more McNuggets allowed in the Barnes household

Leonard has played in only nine games this season for San Antonio

Pierce is set to have his jersey retired on Feb. 11, but there's been a lot of controversy...