Report: Chris Kaman, Blazers agree on two-year, $9.8m contract
The Portland Trail Blazers and Chris Kaman have reportedly agreed to a two-year, $10 million contract.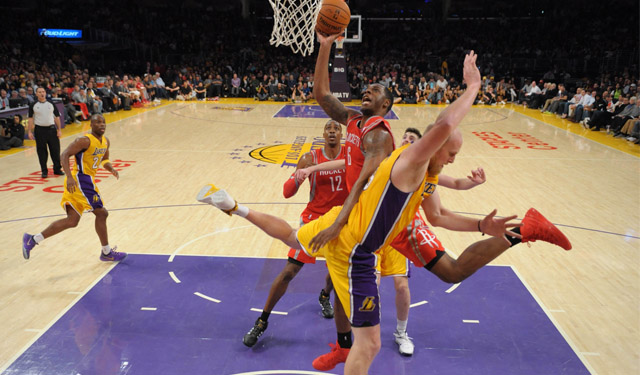 More Offseason Analysis: Coaching changes, news | Free Agency | Draft
The Portland Trail Blazers fixed some big problems with their depth between the 2012-13 and 2013-14 seasons, but they still never had a proper backup center. They could move LaMarcus Aldridge to the 5, but it puts a lot of pounding on him. They have Meyers Leonard but he hasn't really developed in his first two seasons, so you can't trust to put him out there or commit that role to him. Joel Freeland filled in with that role occasionally, but he also isn't a good fit. Neil Olshey wanted a veteran backup center to put behind Robin Lopez and that's what he's found.
Adrian Wojnarowski of Yahoo Sports is reporting the Blazers have signed Chris Kaman to a two-year deal worth $9.8 million. The free agent center will only have $1 million of that second season with the team guaranteed, so it's a low risk move by the Blazers while they look for depth inside. Contracts can't officially be signed until July 10.
Free-agent center Chris Kaman has agreed to a two-year, $9.8 million contract with the Portland Trail Blazers, league sources told Yahoo Sports.

The second season of the deal has $1 million of the $5 million guaranteed, a source said.

Kaman has a history with Blazers general manager Neil Olshey, who drafted Kaman when Olshey was an executive with the Los Angeles Clippers. The Blazers had discussed deals with free agents Channing Frye and Spencer Hawes, but made the move to reach an agreement with Kaman on Thursday sources said.
Kaman is a former All-Star but those days are a far cry from where he is now as a player. He's still a competent scorer inside at times and he can hit the midrange jumper. But he's not much of a defensive presence. He's also a solid rebounder. For the Los Angeles Lakers last season, he averaged 10.4 points and 5.9 rebounds in just 18.9 minutes. He played in only 39 games, starting 13 of them.
The Blazers guard was a guest on the Sirius XM radio show 'Sway in the Morning'

L.A. reached a three-year jersey ad patch deal with Wish, a San Francisco-based e-commerce...

John Paxson doesn't intend to buy Wade out without some sort of compromise from the 3-time...
Lonzo's signature shoes have a sleek, all-black design and will be available in November

Durant recently apologized for tweets criticizing the Thunder and Billy Donovan

Jackson says he has 'no respect' for Durant after KD created fake Twitter pages