Report: Chris Kaman, Lakers showing mutual interest
The Los Angeles Lakers and free agent center Chris Kaman reportedly have shown mutual interest in each other after Dwight Howard signed in Houston.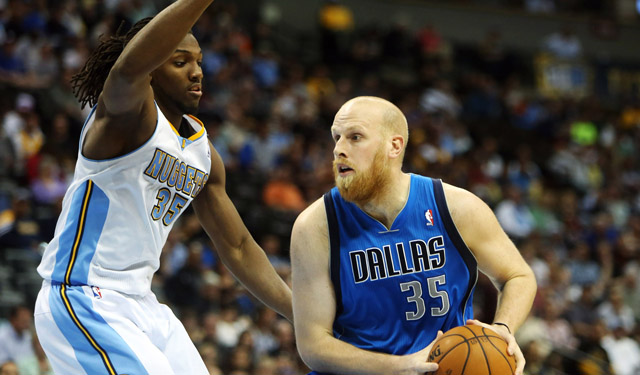 The Los Angeles Lakers are in need of a big regroup as they try to figure out where the future of the franchise is. With Dwight Howard agreeing to sign with the Houston Rockets, a gigantic hole is left in the Lakers' frontcourt with just Pau Gasol and Jordan Hill under contract as Lakers' big men.
They won't find any long-term solutions with the current available options in free agency left, but they can certainly find a stopgap at center to throw out there for the next year or two. According to Adrian Wojnarowski of Yahoo Sports, that stopgap center might be Dallas Mavericks free-agent center Chris Kaman, who has reportedly expressed mutual interest in the Lakers.
As Dwight Howard leaves Los Angeles, the Lakers and free-agent center Chris Kaman have a growing mutual interest, league sources told Yahoo! Sports.

Several other teams have expressed interest in Kaman, including Golden State, Atlanta, Sacramento and New York, sources said.
Kaman isn't going to get Penny Marshall and Jack Nicholson to do backflips if he ends up starting at center for the Lakers next season, but he's a big guy who can score the ball. In theory, he'd be a nice pairing next to Pau Gasol, but the questions about where the interior defense will come from should immediately pop up if this signing occurs. 
The Lakers don't have the flexibility to go after someone like Andrew Bynum, but they can probably convince Kaman there are worse things to do than coming back to play in Los Angeles again. Kaman was drafted by the Los Angeles Clippers in 2003 and spent his first eight seasons with the Clippers. He even had an All-Star season with them in 2009-10. Last season, he averaged 10.5 points and 5.6 rebounds for the Dallas Mavericks.
Kevin Durant says he doesn't agree with what President Donald Trump agrees with

Evaluating where the future Hall of Famer might land up if he is freed from Chicago's rebuilding...

Adam Silver said his piece with the schedule out; we address that and what the slate looks...
The Hawks and Sharecare reportedly agreed to terms on a five-year deal

A look at the context of the schedule and who plays who when, and how far they travel during...

Durant took on rapper Lil Dicky and actually might have lost