Report: Clippers and Warriors will play each other on Christmas Day
NBA tries to stack Christmas Day with four or five very intriguing games every year. This year, Clippers and Warriors will reportedly be one.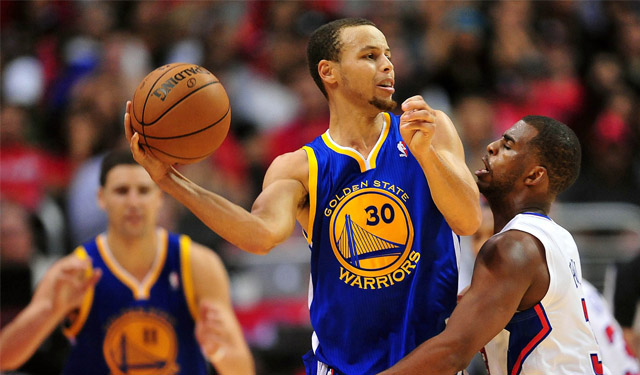 The NBA's first big day of the season doesn't seem to really come until we hit Christmas Day. Even with the hype around opening night, ring ceremonies, rookie debuts (most years, probably not this one), and the chance to see fresh faces in new uniforms, the start of the season isn't something the casual fan often anticipates. When Thanksgiving comes around, a lot of sports fans are focused on the NFL.
However, when Christmas Day hits, a lot of casual fans take notice of the spotlight the NBA has managed to brighten for itself. David Stern and the league's front office has managed to carve out that holiday as a star-studded affair with top matchups and a concentrated focus on the league's best and most exciting players. There are now typically five games on Christmas and Dan Woike of the Orange County Register is reporting we'll be treated to the Los Angeles Clippers facing the Golden State Warriors this Christmas.
Sources: Clippers will play Christmas game at Golden State. Final schedule will be released on Tuesday on NBATV.

— Dan Woike (@DanWoikeSports) August 1, 2013
We've already had a report of the Miami Heat and the Los Angeles Lakers unwrapping a gift for us on that day and hopefully providing us with a very exciting game. If we do in fact get the Clippers and Warriors squaring off that day, it will most likely be the nightcap game (with both teams being on the West Coast) and a perfect way to end the holiday viewing schedule. We'll get Stephen Curry and Chris Paul putting on stellar displays of their own skill sets, Blake Griffin pretending there's a mistletoe above the rim, and maybe even Jamal Crawford and his incredible handle giving us all one more present to enjoy.
(H/T - ProBasketballTalk)
A look at the context of the schedule and who plays who when, and how far they travel during...

Durant took on rapper Lil Dicky and actually might have lost

A report that James would once again be leaving Cleveland made the rounds on Wednesday
Known for his 'take that for data' rant, the Grizzlies coach touched on a number of important...

Wade's days with the Chicago Bulls appear to be numbered

Misty Suri will reportedly keep his job with the New Orleans Pelicans