Report: Clippers are 'itchy' to trade Jared Dudley
LA looking to move veteran swingman as rim protection becomes a priority.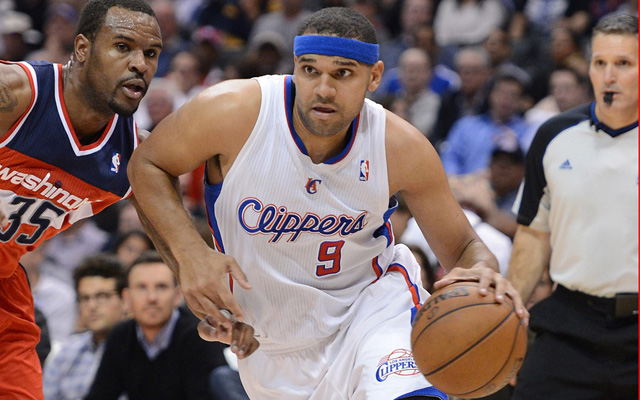 ESPN reports that the Clippers, faced with an overflow of wings with J.J. Redick, Jamal Crawford, Hedo Turkoglu (against all odds) and Sasha Vujacic, are looking to trade Jared Dudley before the deadline. 
Trade rumble: Clippers "itchy" to make a deal and Jared Dudley, with PT harder to come by and logjam at wing spots, is unexpectedly in play

— Marc Stein (@ESPNSteinLine) February 5, 2014
Dudley only just arrived from PHX via J.J. Redick sign-and-trade in summer but hearing now he could be on move before Feb. 20 trade buzzer

— Marc Stein (@ESPNSteinLine) February 5, 2014
Personal view is it's too soon for such changes but Doc Rivers clearly still in search of supporting cast he wants given Hedo/Sasha signings

— Marc Stein (@ESPNSteinLine) February 5, 2014
Dudley, 28, is averaging 7.9 points and 2.1 rebounds per game for the Clippers, shooting 45 percent from the field and 36 percent from three. He's surprisingly struggled on the defensive end with containment and closeout. Turkoglu has, against all odds, played well after being signed as a free agent after the Magic waived him. Dudley has two more seasons at $8.5 million remaining. He has an early termination to opt out into free agency in 2015.
The problem is that the Clippers are the kind of team in the market to buy a player like Dudley. He's a best fit on a contending team on the way up who needs a veteran option to improve their depth and shooting. The list of teams in that situaton are on short order, beyond maybe New York, and their trade options are limited. 
But Dudley's healthy, a great teammate, able to shoot and can contribute. It might take a bigger deal to find something, but definitely add Dudley to the list of guys who coud be on the move at the deadline. 
The Pacers believe the Lakers tampered with Paul George before they traded him

Among the questionable decisions by Jackson was signing Noah to a long-term, lucrative dea...

This Akron store doesn't want their hometown hero to leave again
Milwaukee's star did not get cleared to play for his national team due to a painful knee i...

Ball, the second overall pick in the NBA Draft, is receiving even more hype

Rap mogul supports the vision the outspoken father has for his brand and sons