Report: Clippers, Matt Barnes agree to three years, $11-12 million
The Los Angeles Clippers and Matt Barnes have reportedly agreed to a deal for three years and somewhere between $11-12 million.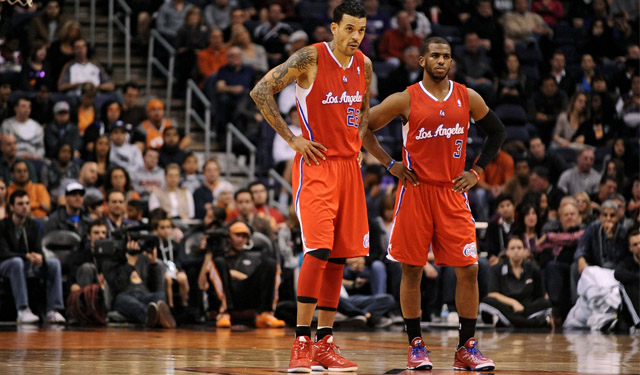 There have been four big issues for the Los Angeles Clippers to resolve going into this season. The first two were finding a coach that would then make Chris Paul feel comfortable in deciding to re-sign with the team. That was accomplished by sending a 2015 first-round pick to the Boston Celtics so that he could get out of his contract with his old team and sign a new contract with the Los Angeles Clippers to coach them. The other two issues that need resolving are wing depth and big men depth.
The Clippers officially ended the wing depth issue this past week. They agreed to trade for Jared Dudley and a signed-and-traded J.J. Redick shortly after free agency opened. Friday, the Clippers agreed to bring back Matt Barnes. Barnes retweeted something from Paul when he decided to re-sign with the Clippers for five years and $107 million and added that he, too, would be joining his point guard teammate in sticking with the Clippers. Multiple reports have said the numbers on the Barnes' contract will be three years and somewhere between $11 million-$12 million.
RT @CP3: I'M IN!!! #CLIPPERNATION... I guess that makes two of us!! Lets get this...

— Matt Barnes (@Matt_Barnes22) July 5, 2013
Matt Barnes will stay with the Clippers on a three-year deal, I'm told.

— Sam Amick (@sam_amick) July 5, 2013
Clippers forward Matt Barnes has agreed to a three-year deal with in the $11 million to $12 million range, a source told Yahoo! Sports.

— Marc J. Spears (@SpearsNBAYahoo) July 5, 2013
The Clippers will most likely be using a chunk of their midlevel exception to sign this deal with Barnes. They did not own his Bird rights since he was only a member of the team for one year and signed as a free agent to join the Clippers. They would normally only be able to sign him for 120 percent of his previous salary, which was the veteran's minimum around $1.2 million. Since they were over the cap, they can use their midlevel exception to sign him to this deal and then have some left over to address the interior depth they still need.
Barnes averaged 10.3 points and 4.6 rebounds in 25.7 minutes last season with the Clippers. This contract will nearly match his total career earnings in the NBA. He's been a journeyman wing player for teams to bring in and add some cheap energy to their bench units. In 10 NBA seasons, he's made an estimated $12.5 million. 
The Celtics point guard wanted to clarify his stance on whether the Earth is flat

Magic vows not to step in unless the rookie's off-court antics affect his on-court perform...

Russell was awarded the Presidential Medal of Freedom in 2011 by Barack Obama
T.J. Warren gets paid big money by the Suns in a four-year deal

Melo didn't hold back on his feelings about President Donald Trump and urges for help in Puerto...

The Wizards star says the NFL won't change until important players like Brady and Rodgers speak...