Report: Clippers refuse to hold chapel with Warriors
An NBA tradition was interrupted Thursday when the Clippers requested a separate chapel service from the Warriors.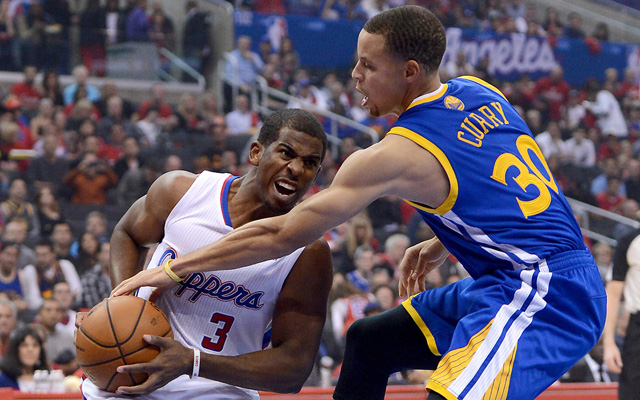 Chapel is a tradition before every NBA game. Players from both teams come together for a pre-game prayer session, usually in a side room at the arena. And typically, both teams share chapel. Basketball is a brotherhood, or whatever. 
But apparently the Clippers were not so welcoming to the visiting Warriors Thursday night in LA. 
According to multiple sources, the Warriors were surprisingly given a separate, earlier, time for their own chapel services. The Clippers held their own private chapel.

"Man, they don't want to have chapel with us?" one team source asked. "I never heard that before, but OK."

The bad blood between the Clippers and Warriors extend back to last season, when Golden State took 3 of 4 against Los Angeles. One of the biggest victories of the last season was an upset of the Clippers at Staples Center in the third game of the season. It was the game after Brandon Rush was lost for the season with a knee injury, and the Warriors responded with a spirited performance.

The Clippers took exception to the Warriors' celebration antics.

Once, the Warriors bench went crazy laughing at Blake Griffin clanking a 3-pointer off the side of the backboard in Oracle. Another time, a few Clippers expressed dislike of Curry's galloping down court after a big three-pointer late in another win.

Several members of the Warriors organization took that as a continuation of last year's heated rivalry.
via Warriors-Clippers Bad Blood Extend to Chapel Services? - Inside the Warriors - with Marcus Thompson.
This shoud add juice to what is likely the rivalry for the Pacific division this year. It seems like a pretty petty approach, though. I mean, players come and players go, but getting in between a man and his faith seems like an unnecessary jab no matter how much trash the team talks. (And the Warriors are a mouthy bunch.)
There's a legitimate California rivalry erupting and it has nothing to do with the Lakers. 
Kevin Durant says he doesn't agree with what President Donald Trump agrees with

Evaluating where the future Hall of Famer might land up if he is freed from Chicago's rebuilding...

Adam Silver said his piece with the schedule out; we address that and what the slate looks...
The Hawks and Sharecare reportedly agreed to terms on a five-year deal

A look at the context of the schedule and who plays who when, and how far they travel during...

Durant took on rapper Lil Dicky and actually might have lost