Report: Clippers targeting Pacers' Granger as Celtics talks cool
The Los Angeles Clippers are reportedly pursuing a deal of Eric Bledsoe for either Danny Granger or Arron Afflalo.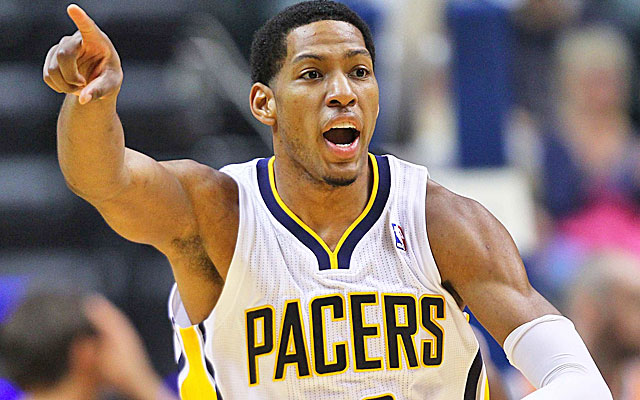 As talks have stalled between the Los Angeles Clippers and Boston Celtics, LA is considering another deal involving its reserve point guard, Eric Bledsoe, and Pacers forward Danny Granger: 
Sources say that the Clippers, meanwhile, have already engaged the Orlando Magic and Indiana Pacers in separate trade discussions headlined by Bledsoe, with Orlando's Arron Afflalo and Indiana's Danny Granger as the respective trade targets. Indiana, according to sources, is leaning at present toward keeping Granger for the final season of his contract in hopes that the former All-Star swingman's return from knee surgery can help the Pacers close the gap on Miami in the East, but LA has been operating for months under the premise that Bledsoe, once Paul re-signs, will be dealt before becoming a restricted free agent in July 2014.

Before the stalemate, sources says, officials from the Celtics and Clippers spent much of Saturday trying to hash out a deal that would meet Boston's compensation demands to rescind the non-compete clause in Rivers' contract and let him out of his contract. The pursuit of the Boston trio and targets such as Afflalo and Granger is all part of the Clippers' intent, as reported Thursday by ESPN.com, to be "very aggressive" and "shake every tree" in an attempt to upgrade the roster to the point that Paul not only re-signs when he becomes a free agent on July 1 but also to ensure that they are an unquestioned championship contender going forward.
via Sources: LA Clippers resist trading Bledsoe - ESPN
Bledsoe was a huge part of the Clippers' run last season but will be a restricted free agent possibly looking for a massive contract extension next summer. The Clippers may feel they "have" Paul (who becomes a free agent in 14 days) and so are trying to cash in on Bledsoe's value while it's at its peak. 
For the Magic, Afflalo has surfaced in trade talks over the past few months. They're clearly looking to move him, and Bledsoe would give them a significant upgrade over Jameer Nelson, and would allow them to try to move Nelson's contract off the books. Afflalo would provide the Clippers with a consistent shooting guard who isn't over 30 and a scoring weapon who can also defend at a high level. 
Granger is a riskier prospect. He missed virtually the entire season with a knee injury that's hampered him for more than a year. In his prime he was a versatile scoring combo-forward. Giving up Bledsoe for a player with those kinds of injury concerns has a lot of risk. It would also give the Clippers a super-sized lineup with Paul, Jamal Crawford, and Granger along with Blake Griffin and DeAndre Jordan. 
The Pacers would get back a guard who could help their bench, a desperate need for them. Would they want to pay Bledsoe next season what he's worth, though, when they have George Hill? That's a big gamble on their part, and with the Pacers' (slightly inexplicable) attachment to the idea of keeping Granger, this may not work out. 
But don't give up on the idea of the Clippers and Celtics reviving talks. They've cooled off for now according to reports, but that deal still makes the most sense for the Clippers if they'll stop holding out for too much in the deal.
For more on the insanity on the coaching carousel, check out Ken Berger of CBSSports.com's latest column.
Deciding who to watch on League Pass can be difficult, but these rankings promise to help

Veteran forward signed a one-year deal with the Knicks in offseason

Knicks forward had his truck stolen out of his driveway
The Celtics will send No. 34 to the rafters in Boston when they take on his old rival

It's never too early to look at June's NBA Draft

Cousins uses some colorful language to get his point across