Report: Clippers to decide whether to shut down J.J. Redick or not
LA has a tough call with injured wing who has been out since February 3rd and whose absence could limit their ability to advance in the playoffs.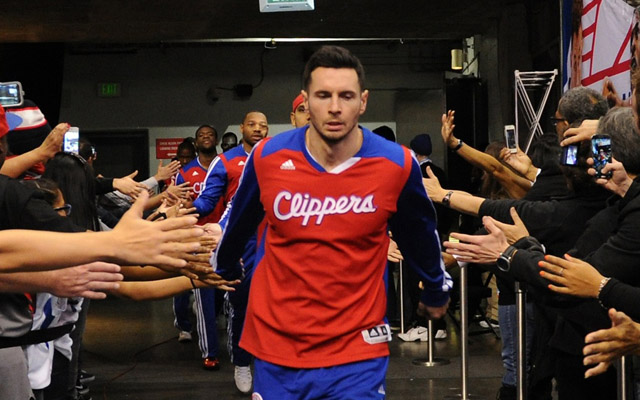 More NBA: Power Rankings | Expert Picks | Latest news, notes
The Clipppers are set to reach a decision on the future of wing shooter J.J. Redick and the result could determine whether LA can contend for a title this season. Redick has been out since early February with a bulging disc. It's been over a month without an update, and now the OC Register reports that the team is nearing the point where it's going to have to make the call whether to shut the veteran wing down for the year or not. 
The team will determine in the upcoming weeks whether Redick is healthy enough to rejoin the team. If he's not, the club will likely shut Redick down for the rest of the season in an attempt to have him ready for training camp next year.

Redick, who hasn't played since Feb. 3 because of a bulging disc in his back, has recently ramped up a shooting program, though Doc Rivers said the team doesn't know when and if he'll be able to return.
via Decision on Redick coming: Clippers Blog: Orange County Register.
Redick has played in just 30 games this season, after being acquired in sign-and-trade this summer. Redick was brought in to be the reliable shooter the Clippers need to keep double teams off of Chris Paul an Blake Griffin. Without him, teams like Memphis scheme to funnel the ball to lesser shooters in Jared Dudley and Matt Barnes. (Barnes has been on fire for the last month but who struggled in the playoffs last season. He scored 30 points in the Clippers' blowout elimination loss to Memphis, but shot 7-of-19 in the three losses that set up the Clippers' exit in Game 6). 
Losing Redick for the year would be devastating for the Clippers' hopes of making a run. As much as their interior defense needs work, their offense seems great in the regular season but needs a reliable catch-and-shoot guy. Jamal Crawford saw his playoff minutes disappear last season for a number of reasons, and Redick provides the plug-and-play type guy on both ends they need. 
Redick has looked good while out on the floor, but back injuries are difficult and most often just need extended rest to heal. We'll see whether the Clippers can catch a break with the former Duke standout. 
A look at the context of the schedule and who plays who when, and how far they travel during...

Durant took on rapper Lil Dicky and actually might have lost

A report that James would once again be leaving Cleveland made the rounds on Wednesday
Known for his 'take that for data' rant, the Grizzlies coach touched on a number of important...

Wade's days with the Chicago Bulls appear to be numbered

Misty Suri will reportedly keep his job with the New Orleans Pelicans