Report: Clippers to sign Jamal Crawford, Chauncey Billups and pass on Ray Allen
The Clippers have agreed to terms with Jamal Crawford and Chauncey Billups, while passing on signing veteran Ray Allen.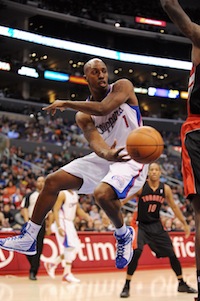 Billups is back in Lob City.
(Getty Images)
The Clippers went two-for-one.
According to the L.A. Times, the Clippers have agreed to terms with Jamal Crawford and Chauncey Billups, while passing on signing veteran Ray Allen.
Crawford, an unrestricted free agent who opted out of his $5.2 million contract with the Portland Trail Blazers, has been offered a spot by the Clippers. He is expected to sign a three-year, $15.7 million contract, according to the executives.

Billups, who played in just 20 games last season with the Clippers before suffering a season-ending left Achilles tendon surgery, will sign a one-year deal that could be worth up to $4.3 million if he reaches bonuses, the executives said.

With Crawford and Billups reaching deals with the Clippers, L.A. cancelled the visit they had planned for free agent shooting guard Ray Allen on Friday.
A backcourt that includes Crawford and Nick Young? Shots, shots, shots shots shots, shots, shots, shots.
The Clippers, who are still operating without a general manager after Neil Olshey departed for Portland, are trying to make significant offseason strides in building a competitive Western Conference team. After acquiring Chris Paul last season, the Clippers made a strong run to the second round of the Western Conference playoffs, as well as finishing fourth in the West standings.
Billups, who is 35 years old and recovering from a season-ending Achilles injury, was a steady veteran for the Clippers last season scoring nearly 15 points a game in 20 appearances.
Crawford, 32, who was part of a dysfunctional team in Portland last season, averaged 13.9 points per game for the Blazers.
According to a Yahoo! Sports report however, Crawford is signing a four-year, $25 million deal. If that's the case, then this deal went from "pretty decent" to "whoa, what were you thinking, Clippers?"
This is significant though for the Miami Heat as they're set to meet with Allen Thursday and the main competitor against them was the Clippers. But now with the Clips canceling their meeting with Allen, it seems all but assured Ray Allen will be playing for the Heat next season. Weird.
Paul may be getting a late start in Houston, but he promises to unlock some key role playe...

Lonzo doesn't want to throw away money for a tech, which isn't a great look for the rookie

Davis left the Pelicans' game against the Nuggets in the third quarter
Popovich was upset about an out of bounds call

Wall went 3-for-12 from the field, and had just eight points in the Wizards' loss

Noah was reinstated from his 20-game suspension on Monday, but is yet to play for the Knic...