Report: Clippers to target David West in free agency
The Clippers will reportedly pursue David West in free agency, to pair him once again with Chris Paul in an effort to keep the All-Star guard in Los Angeles.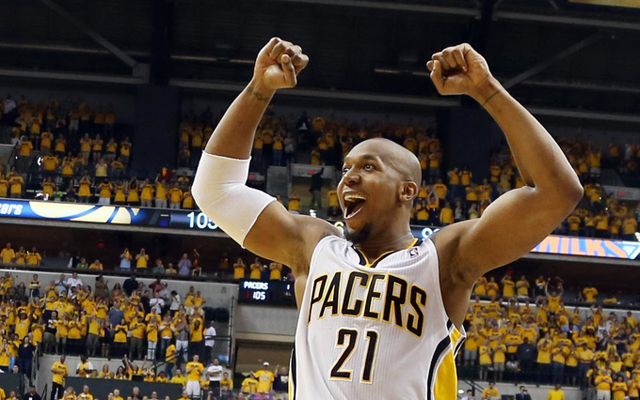 The Clippers reportedly had some chemistry issues last season between Chris Paul and Blake Griffin. Paul has quietly expressed frustration with the inexperience and decision making of his teammates, which led to the Clippers' first-round exit. 
And according to ESPN, the Clippers might target an old teammate of Paul's who is still battling in the playoffs, David West:
The Pacers' veteran leader openly loves his situation in Indiana, which certainly gives Indy justified cause for optimism when it comes to re-signing the 32-year-old this summer. Yet the whispers are already swirling that Chris Paul's Los Angeles Clippers, in particular, are going to make a hard run at West in the offseason.
This of course assumes the Clippers re-sign Paul, which they are still likely, but no longer a lock to do. Paul's frustration over what happened at the end of this season has necessitated change in order to get him to stay, and Paul was reportedly one of the players who advocated for the decision not to retain Vinny Del Negro as head coach. 
The Clippers can only offer West the $5.15 mid-level exception, which would be a massive paycut for a player who has played at an All-Star level for two seasons in Indiana. West signed a short-term deal with the Pacers specifically to play for a contending team, as well as to set up the opportunity for his next deal, which will likely be the last of his career. 
So the odds of West heading to the Clippers are slim, but there's also another complication here. Griffin. The Clippers can cede some decision making to Paul in an effort to make him happy enough to retain him, but Griffin is a big part of their future and still improving. West would be legitimate competition for the starting power forward spot. Were they to convince West to re-join CP3 in LA, they'd have a bit of a boondoggle on their hands trying to sort out their power forward situation. 
T.J. Warren gets paid big money by the Suns in a four-year deal

Melo didn't hold back on his feelings about President Donald Trump and urges for help in Puerto...

The Wizards star says the NFL won't change until important players like Brady and Rodgers speak...
Popovich spoke at length about sports, race, culture, and politics during Spurs media day on...

Carmelo Anthony finds the idea of coming off the bench very funny

Several teams spoke about Trump's recent comments about protests and the Warriors' White House...