Report: Clippers to waive Miroslav Raduljica
Newly-acquired center Miroslav Raduljica will reportedly be released by the Clippers to open up a roster spot.
• 1 min read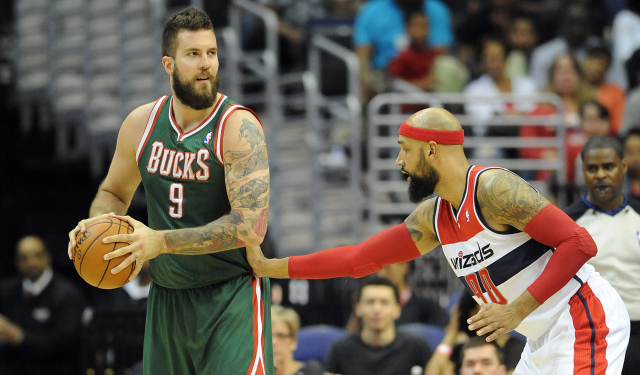 The Los Angeles Clippers will release center Miroslav Raduljica on Friday, according to RealGM's Shams Charania. He is owed $1.5 million this coming season and has a partial guarantee on his salary for the following year.
The Clippers acquired Raduljica from the Milwaukee Bucks along with Carlos Delfino in exchange for Jared Dudley and a first-round pick earlier this week. Los Angeles is also expected to waive Delfino.
The idea here is to open up roster spots. The Clippers need some help on the inside, and it would appear they think they'll get someone who can contribute more than Raduljica can. They reportedly met with free agent big man Ekpe Udoh on Tuesday, and he could be perfect for them. There's also a chance forward Hedo Turkoglu could come back to Los Angeles next season. 
Raduljica, 26, averaged 3.8 points and 2.3 rebounds in 9.7 minutes per game for the Bucks last year, shooting 54 percent from the field. He will compete for Serbia in the 2014 FIBA World Cup, which begins on Saturday. 
Thomas took to Twitter to let the Celtics know he doesn't want to ruin Pierce's night

The Hall of Famer was a seven-time All-Star with the Celtics, and was MVP of the 1976 NBA...

It's rare to see a legit punch in an NBA fight, but this was definitely one of them
We've got all the scores, highlights and news from an NBA Tuesday

The former Slam Dunk Contest champion will take his talents to Tri-State

Do NBA players have look-a-likes from famous paintings? We found out on the new Arts & Culture...