Report: Clippers turn down Celtics, Rivers to stay in Boston
Doc Rivers and Kevin Garnett aren't headed west, at least not right now.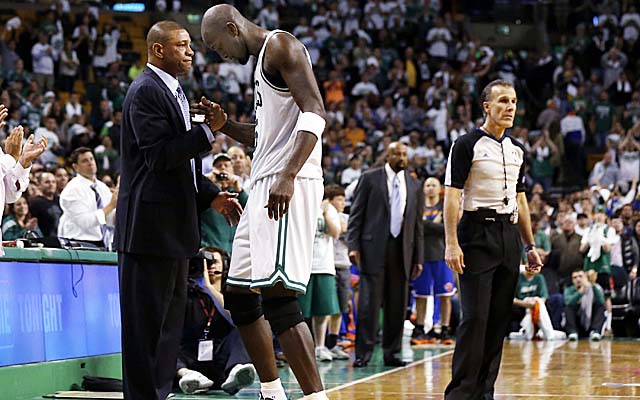 There were reported discussions heating up between the Celtics and Clippers that included Doc Rivers and Kevin Garnett headed to the West Coast.
However, according to the Los Angeles Times, the deal won't be happening as the Clippers have rejected the trade.  
As a result, the Clippers are moving forward and are prepared to offer their vacant coaching position to either Brian Shaw or Lionel Hollins. 
The reported deal between the Celtics and Clippers had Rivers and Garnett going to the Clippers for DeAndre Jordan and two first-round picks. Eric Bledsoe's name was also involved, and he might've been the reason the talks fell apart. 
Rivers wasn't technically part of the trade, but the agreement was going to be that he'd be contractually released and free to take the Clippers job. As Ken Berger of CBSSports.com reported Friday, Rivers has a clause in his contract that prevents him from retiring and then working for another team. Hence the "trade" discussions.
Rivers has three years and $21 million left on his deal. 
There were a few whispers that the Clippers were looking to use Bledsoe in a separate deal, which is why they were reluctant to include him in the Boston trade. One scenario included him going to the Lakers in a package deal involving Blake Griffin for Dwight Howard.
However, according to ESPN.com, those talks actually weren't materializing into anything.
Rivers' future with the Celtics has remained up in the air, with him saying he'd make a decision soon whether or not he'd come back next season. Rivers is said to be resisting the idea of undertaking a rebuild with the Celtics.
The Rockets are gunning for their 10th consecutive win

Victor Oladipo just wants to live his life and enjoy his breakout season with his new team

Keep it right here for all of the news, notes, scores, and highlights from around the Asso...
LeBron has a player option for next season, and is expected to opt out and become a free a...

The Pistons will be looking to snap a five-game losing streak when they host the Celtics on...

Bryant offers some advice for Ball and other rookies about having a sense of urgency in the...