Report: Contract holding up Rivers deal, NBA expected to sign off
The NBA reportedly will not block the Clippers and Celtics from completing their deal involving Doc Rivers, one the deal finally gets that far.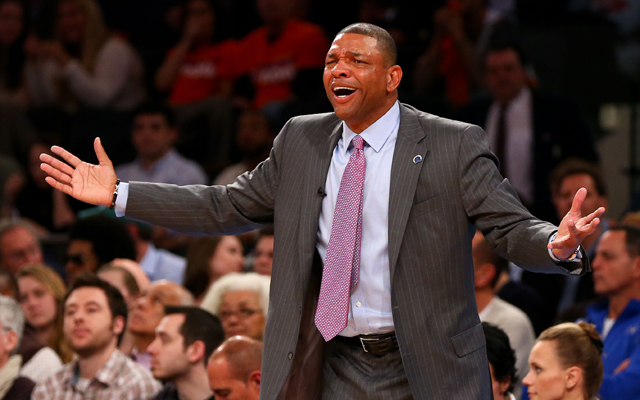 Updated 11:42 p.m. ET
The NBA isn't expected to block Doc Rivers' move to the Clippers. But things aren't quite to that part yet. 
Previously reported by ESPN Boston, the league was said to be allowing the Celtics and Clippers agreed deal that sends Rivers to Los Angeles in exchange for a 2015 first-round pick. Except contract negotiations are reportedly holding up the approval process. 
According to Mark Heisler writing for SportsCity, like Gregg Popovich in San Antonio, Rivers is set to be taking over basketball operations with the Clippers.
Rivers will reportedly sign a three-year, $21 million contract with the Clippers. 
League rules prohibit attaching players to any deal involving a coach, which means any subsequent trade involving the Clippers and Celtics will likely be vetoed and viewed in violation of the rules. 
David Stern recently said on multiple radio programs that the league is watching the situation very closely and has no intention to allow a trade involving Rivers and  Kevin Garnett to go through.
"The teams are aware that the collective bargaining agreement doesn't authorize trades involving coaches' contracts," Stern said. "If you think those, at this point -- having been all over the media for the last week --  are separate transactions … I have a bridge that I would very much enjoy selling to you."
Therefore, talks between the two teams fell apart before being revived Sunday, which led to a deal getting done. 
This stat line is in no way an indication that Ball has turned any kind of corner

All of Simmons' 3-point attempts have come from well beyond half court

The No. 1 overall pick has not played since Oct. 23 due to a shoulder injury
In this week's Power Rankings, the Celtics finally claim the top spot while the Cavs begin...

We've got you covered for all the scores and highlights from Sunday's NBA games

The Cavs superstar compared Kaepernick to Martin Luther King Jr. and Muhammad Ali