Report: Dallas not interested in signing Chris Bosh this summer
The Mavericks reportedly don't think Chris Bosh can play next to Dirk Nowitzki. That's bad logic on a lot of levels.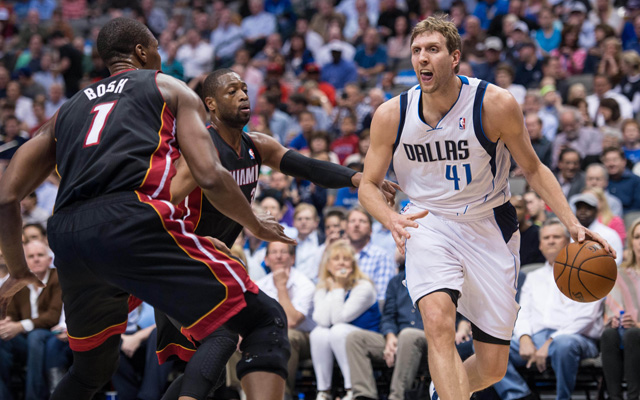 More NBA: Season Awards | Grades: East | Grades: West | Seasons in Review
ESPN Dallas reports that the Mavericks, who will have substantial cap room aren't interested in pursuing Miami Heat forward Chris Bosh, who has an opt-out to become an unrestricted free agent this summer. 
Bosh, who led Dallas Lincoln High to an undefeated season and mythical national title as a senior, has made it clear over the years that the thought of playing in his hometown doesn't appeal to him. The ridiculous numbers of ticket requests and demands for his time would outweigh home cooking, in his mind.

The Mavs' immediate goal is to give Dirk Nowitzki the best possible chance to contend for another championship during his golden years, and they don't consider Bosh to be a good fit next to the big German.

Bosh and Nowitzki, two of the best jump-shooting big men in the game, like to operate from a lot of the same areas offensively. An athletic big man who does a lot of damage in the lane and on the offensive glass – such as last summer's target, Dwight Howard – would be a much better complement to Nowitzki.

Bosh, more of a power forward who can play center, is a smart defender but not the rim-protecting, rebounding-ripping defensive anchor the Mavs would like next to the athletically-challenged Nowitzki. Bosh has never averaged more than 1.4 blocks per game in a season, and his rebounding average has dipped under seven per game the last two seasons.

It's not that the Mavs couldn't make use of Bosh on their roster. Just not for the suggested $20 million-per-year price tag. Or even close to it.
via Chris Bosh to Dallas Mavericks? Don't hold your breath - ESPN Dallas.
Well, Chris Bosh is worth $20 million, so that point's kind of irrelevant. 
Second, this line of thinking would be perfect if it were 1999 and big men still ruled the league. But small ball is not a fad, it's proven to be the most effective construct in spreading defenses out so that the help defense allowed under new rules can't constrict the lane to prevent perimeter penetration. Additionally, Bosh isn't a quality rebounder, but that's also as a function of the Heat's schematic structure. 
Next, the current structure the Mavs are working from has lead to Samuel Dalembert and DeJuan Blair taking a majorityof minutes at center. So, maybe that thought process is better in theory than in practice. Would you rather have Samuel Dalembert next to Dirk or Chris Bosh? 
And finally, and this is the hard part, Dirk Nowitzki won't play forever. The Mavericks have to start looking for who's going to lead the team when Nowitzki retires. In the playoffs this year (after another stellar regular season from Nowitzki), the Mavericks used Dirk a lot as a decoy to run actions for other sets and players. He's still Dirk, he's still elite, but the time is coming. 
Dwight Howard ain't walking through that door. The Mavericks would be well served to find a high-efficiency, basketball-intelligent, elite defender in the frontcourt. Passing on an opportunity to have Chris Bosh on board would be a mistake, and it would be a mistake for Bosh to overlook that option as well, if he's looking for a max payday in what could be his last big contract. 
Warriors' forward doesn't understand the reasoning behind the all-too-common double technical...

Hardaway Jr. gave a 'safe' call like he was an umpire in baseball

Barnes hits the trey with less than a second left to lift Mavericks to dramatic 95-94 vict...
Kevin Durant was once again back in Oklahoma City

Gregg Popovich has never seen an injury lead to the issues that Kawhi Leonard has been fac...

Kobe Bryant, of course, had his 81-point game against Rose and the Raptors back in 2006