Report: Damian Lillard accepts invitation to NBA dunk contest
Blazers guard could be first player to ever participate in all five All-Star events.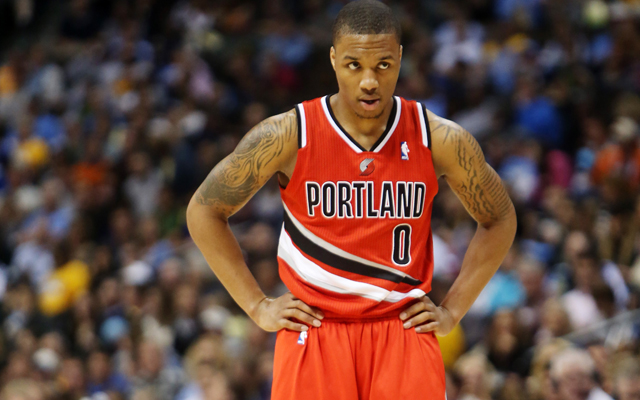 According to a report from CSN Northwest, Portland Trail Blazers guard Damian Lillard will accept an invitation to participate in the 2014 NBA Dunk Contest at All-Star weekend later this month. 
Not only that, but Lillard will defend his Skills Competition title, and has been invited to the three-point contest. He's already in the Rising Stars rookies-sophomores game Friday nght and was named an All-Star reserve. So ... 
The NBA has broached Lillard with an attractive, unprecedented opportunity. They've asked him to consider the Three-Point Shooting Contest as well, another source relayed to CSNNW.com.

So far, the reining Rookie of the Year is committed to defending his Skills Challenge title; he's competing in the Dunk Contest, the Rising Stars Challenge and the All-Star game.

No player in the history of the game has ever competed in all five All-Star Weekend events in the same weekend. The NBA will announce those participating tomorrow.
via Sources: Lillard to partake in Dunk Contest, mulling Three-Point Contest | CSN Northwest.
That's an exhausting weekend for the kid, on top of all the media requirements and parties that go on that weekend. Lillard's young, but that's going to take its toll on him, and there's no telling what kind of legs he would have left for the dunk contest after going through all those events before. 
But, man, that's actually a pretty bold move and something which would drive interest not only in Lillard, but in the events, especially if he were to get on a roll Saturday night. 
The Raptors will try to continue their run of dominance.

The Rockets are still the NBA's hottest team, but don't sleep on the Spurs now that Leonard...

Kevin Garnett has no interest in working with Glen Taylor, but he'd gladly buy the Timberwolves...
LaVar Ball formed a pop up shop in New York to sell Big Baller Brand merchandise. The results...

The Cavaliers players took a stand against bullying on social media

The Rockets are gunning for their 10th consecutive win