Report: Dan Gilbert's letter a sticking point for LeBron James' return to Cavs
Heat free agent superstar reportedly still upset about scathing letter from Gilbert in 2010.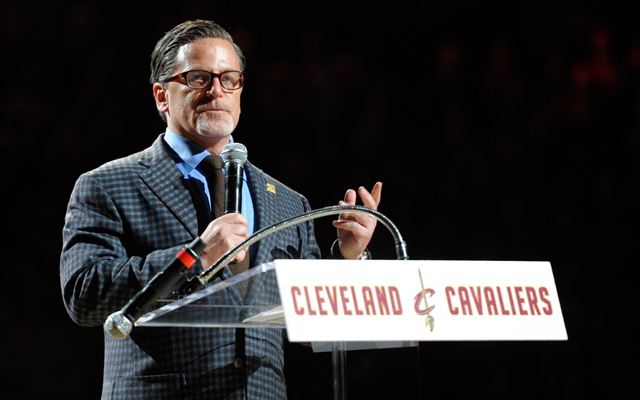 More: LeBron James' free agency page | James, Wade fly back to Miami
Call it a Comic Sanstorm. 
On Wednesday, CBSSports.com's Ken Berger wrote about how the relationship between Dan Gilbert and LeBron James could be a sticking point in whether James decides to return to the Cavaliers as a free agent this summer. 
On Friday, ESPN reports that the infamous letter penned in Comic Sans remains a road block: 
One reason, if not the major reason, that LeBron James has taken so long to decide whether to play in Miami or Cleveland next season is the infamous letter Cavaliers owner Dan Gilbert penned about James after the superstar left Cleveland in 2010, sources said.

In the letter, written in Comic Sans font, Gilbert called James a "coward" and mocked the many nicknames and catchphrases attached to James, such as "King James," "The Chosen One" and "Witness."

The letter remained on the Cavs' website for the past four years until the team removed it earlier this week.

While James recognizes that informing Cavs fans and Gilbert, who was told of James' decision to leave Cleveland in a telephone call five minutes before it was announced, on national television was a mistake, he is still wrestling with whether or not to return to play for Gilbert's team.

"If it wasn't for that letter, this would've been done awhile ago," one source said.
via Dan Gilbert letter still an issue for LeBron James - ESPN.
The situation is likely more fluid than that. As Berger writes: 
But while personal mending would have to occur between James and Gilbert, that letter isn't the crux of his decision of whether to reverse his departure from Cleveland four years later. As J.A. Adande of ESPN.com so eloquently put it here, it's bigger than that -- going straight to the issue, laid bare in the 2011 lockout, of the gap in trust between owners and players.

Gilbert, of course, voted for the 2011 CBA. Arison was among five owners who voted against it.

Be that as it may, if James leaves Miami and returns to Cleveland to work again for Gilbert, it would be an unprecedented story of redemption and two-way forgiveness. Much more than that, though, it would be a remarkable capitulation from the league's biggest star in his unique position as the pre-eminent force on the players' side of owner-player relations.
via At forefront of owner-player divide, LeBron James' power is put to the test - CBSSports.com.
So he has to let go of the fact that Gilbert publicly called him "cowardly" (which would be the biggest sticking point if I were him), get past the lockout machinations by the owners that have forced the superstars of the league to take paycuts in order to play together, and that's before we start talking about the fans and all their craziness. 
No wonder he's taking his time. 
Where does that letter rank all-time in things Gilbert regrets? The Cavaliers took the letter down for a second time this week after it was supposedly found still active as the result of a content management system glitch. While media and league insiders panned the letter as an emotional overreaction, Cleveland fans leapt to defend Gilbert for sticking up for their emotional interests after James took his talents to South Beach on live television four years ago. 
James flew to Miami from Las Vegas Thursday night, accompanied by Dwyane Wade after reports throughout the day had indicated he was on his way back to Cleveland. Multiple reported announcement times passed without any such proclamation, though the media, on his website, or otherwise. He's reportedly flying to the World Cup Final in Rio, Brazil this weekend, with a decision reportedly planned before then. 
Leonard's relationship with Spurs also reportedly strained because of how injury has been...

San Antonio hasn't missed the playoffs in 20 years, but the road is rocky this season

Last year's MVP finalist has missed all but nine games this season
The design for the patch is still being worked on

The explosive forward and upcoming free agent is having a career year

Cuban said on Dr. J's podcast that losing is Dallas' 'best option'