Report: Dario Saric's father says his son will play for Sixers next season
Sixers' prospect's father indicates his son will join the rebuilding squad in 2016-2017.
This popped up on Twitter this week from a European scout, who says he spoke with Philadelphia 76ers overseas prospect Dario Saric's father, who indicated the former No. 12 overall pick will finally join the rebuilding squad next season. His contract situation opens him up to finally join the team next summer.
Father of Dario Šari? confirmed that his son will play next year for @Sixers .

— Vedran Modri? (@vedranmo) December 2, 2015
Saric currently plays for Anadolu Efes in the Turkish Basketball Super League. Saric is averaging 11.9 points on 58 percent shooting from the field and 45.5 percent from 3-point range. That's great, if you believe it will translate to the NBA. That's always a question that can't be answered until the player comes over.
Meanwhile, there's a substantial chance that the Sixers could get a top-three pick this season, and with the Lakers' pick they own to fall back to No. 4 and convey this season. The ideal scenario? Saric comes over, the Sixers get the No. 1 pick and take Ben Simmons, and the Lakers' pick falls back to No. 4, which the Sixers then use to take Jamal Murray out of Kentucky. A starting lineup of Murray, Simmons, Saric, Nerlens Noel and Jahlil Okafor with Robert Covington and Hollis Thompson off the bench? That's actually kind of sort of like an actual NBA team.
Of course, with the Sixers' luck, the pick won't convey and they'll miss out on both Simmons and Murray as they go 1 and 2, forcing the Sixers to take Skal Labissiere or Dragan Bender, because they definitely need another big.
Anyway, the process may be failing so far this season, but the Sixers' chances of getting something to work remain bright.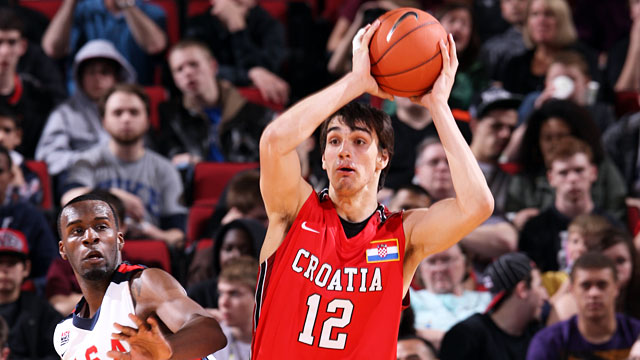 We've got all the scores, highlights and news from all of Sunday's games

The Rockets beat the Warriors 116-108 on Saturday night

The Cavaliers gave up 148 points in their loss Saturday afternoon to the Thunder
Blatt made the comment before coaching in the All-Star Game in Turkey

Is this rock bottom for the Cavaliers because it sure feels like it is

Wade, as he's done so many times in his career, threw it up to LeBron for the thunderous f...