Report: David Blatt to interview with Cavs on Wednesday
The Cavaliers will interview former Maccabi Tel Aviv head coach David Blatt about their head-coaching vacancy on Wednesday in Cleveland.
• 1 min read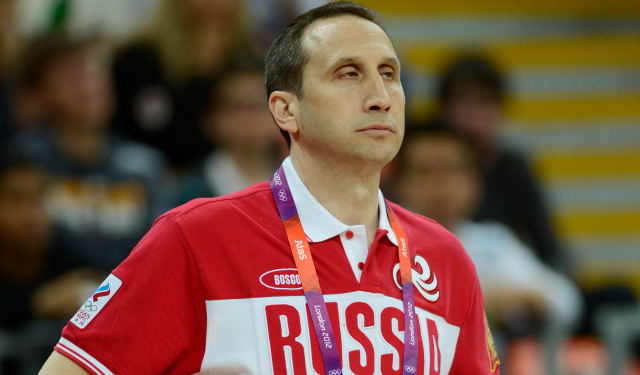 More Offseason Analysis: Coaching changes, news | Free Agency | Draft
The Cleveland Cavaliers will interview David Blatt about their vacant head-coaching position on Wednesday, and soon thereafter he will have to tell Golden State Warriors head coach Steve Kerr whether or not he will join his staff, according to Yahoo Sports' Adrian Wojnarowski.
Unless the Cavaliers move quickly to hire Blatt upon meeting him, there's a strong belief within the Golden State Warriors and some close to Blatt that he'll accept a job as Steve Kerr's top assistant. Kerr seems willing to give Blatt the opportunity to push his process with Cleveland into mid-week, but it's doubtful that Kerr will go much longer than that without pushing Blatt for a commitment, sources said.

Nevertheless, Blatt will fly to the United States to meet with Cavaliers officials about the job. Cleveland has narrowed its known field to three candidates, including Los Angeles Clippers assistant coaches Alvin Gentry and Tyronn Lue, but owner Dan Gilbert has continued to pursue high-profile college candidates in a far less public, far more clandestine process, sources said.
Blatt stepped down as the head coach of Maccabi Tel Aviv and announced he would be following his dream of coaching in the NBA. It is now a matter of where, not when. 
He reportedly had a brief chat with Kerr recently at Los Angeles International Airport, and the new Warriors coach seems intent on hiring at least one big-name assistant. Flip Saunders and the Minnesota Timberwolves are also reportedly interested, but Yahoo Sports reported on Thursday that he was "mostly focused on Golden State and Cleveland."
When the Cavaliers announced that David Griffin would be their general manager and Mike Brown had been fired as head coach, Griffin said that he wanted their next coach to have a more balanced emphasis on offense and defense. Unlike Brown, Blatt is considered an offensive guru, which could endear him to Griffin.
We've got all the scores, highlights and news from all of Sunday's games

The Rockets beat the Warriors 116-108 on Saturday night

The Cavaliers gave up 148 points in their loss Saturday afternoon to the Thunder
Blatt made the comment before coaching in the All-Star Game in Turkey

Is this rock bottom for the Cavaliers because it sure feels like it is

Wade, as he's done so many times in his career, threw it up to LeBron for the thunderous f...