Report: 'Defiant' Serge Ibaka wants to come back early
Serge Ibaka reportedly wants to have 'his Willis Reed moment' in the NBA Finals.
• 1 min read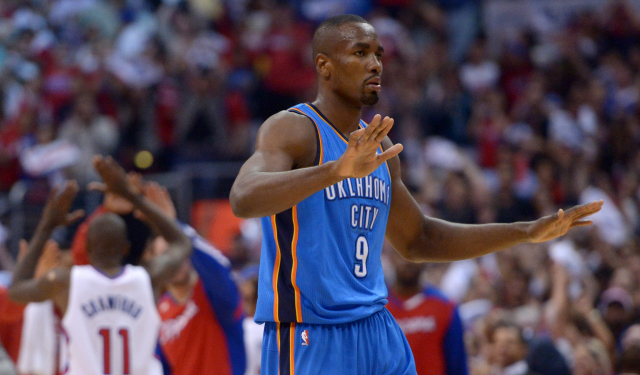 More postseason coverage: Playoff schedule, results | Latest news, notes
Serge Ibaka reportedly wants to return earlier than expected. The Oklahoma City Thunder ruled him out for the rest of the postseason with a calf strain, but he refuses to see it that way himself, according to Yahoo Sports' Adrian Wojnarowski:
Far from the beginnings of these Western Conference finals, far from these unfortified Oklahoma City Thunder, Serge Ibaka is defiant and determined for the world to witness his Willis Reed moment. Ibaka, so proud, so professional, is respectively raging against his injury diagnosis.

Ibaka is back in Oklahoma City for Games 1 and 2 – ruled out of the playoffs with a lower leg injury – but his willingness to play with pain, his loyalty to the championship cause, has him thinking about starting some stationary shooting late this week, a league source told Yahoo Sports on Monday.
Ibaka was greatly missed in Monday's 122-105 Game 1 loss against the San Antonio Spurs. The Spurs scored 66 points in the paint, and Tim Duncan had 27 points in 29 minutes. After the game, Oklahoma City head coach Scott Brooks didn't want to make any excuses. Brooks was repeatedly asked about the injured rim protector, and five times he said a comeback was not in the cards. Back in Oklahoma though, the big man reportedly believes he can play again this season if his team makes it to the NBA Finals. 
That part looks like it will be tricky. The Thunder have been used to Ibaka cleaning up their mistakes, and they're used to funneling people his way. His absence is a huge adjustment; he is the team's third-best player, its best-shooting big man and its most important defender. Oklahoma City will have to make some changes before Game 2.
Leading up to San Antonio's series-opening victory, Tony Parker and Kawhi Leonard wouldn't accept that Ibaka was definitely out. It's a mental thing; the Spurs didn't want to let up. Brooks was adamant that Ibaka was finished because, even if there is a chance Ibaka comes back, there's no way the Thunder organization wants any of his teammates thinking about it. They can't rely on him to bail them out.
Keep it right here for all of the news, notes, scores, and highlights from around the Asso...

LeBron has a player option for next season, and is expected to opt out and become a free a...

The Pistons will be looking to snap a five-game losing streak when they host the Celtics on...
Bryant offers some advice for Ball and other rookies about having a sense of urgency in the...

Burks has stepped up in a big way for the Jazz, averaging over 20 points per game since Rodney...

Nooooooo James Harden don't do Noah Vonleh like that