Report: DeMarcus Cousins expects to play for Team USA Wednesday
Kings center DeMarcus Cousins sat out Saturday against Brazil, but reportedly expects to suit up against the Dominican Republic.
• 1 min read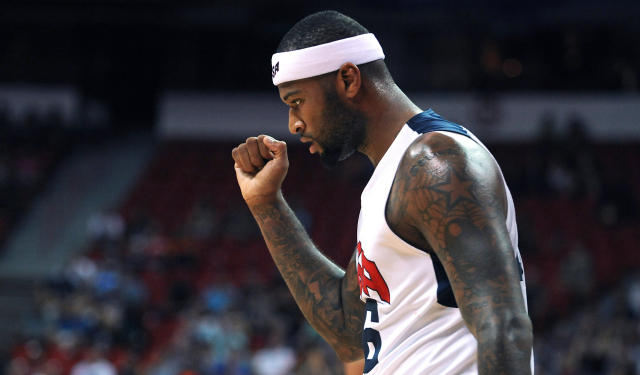 Offseason: Free Agency | Latest from Ken Berger | Rumors
Sacramento Kings center DeMarcus Cousins didn't play in Team USA's 95-78 win over Brazil on Saturday, but he expects to be back in the lineup on Wednesday against the Dominican Republic, according to News10 ABC's Sean Cunningham.
Cousins had to leave practice early last Wednesday after hurting his right knee, but an MRI fortunately revealed no structural damage. It doesn't seem like the minor injury will affect his chances of making the team, but how he fares in the two exhibition games at Madison Square Garden could be big. Team USA will play Puerto Rico on Friday.
There are 16 guys left on the roster, but only 12 can play in the FIBA World Cup. Anthony Davis will be the starting center, but it's unclear who of Cousins, Mason Plumlee and Andre Drummond will back him up. Drummond received a DNP-CD on Saturday, as did wings Gordon Hayward and DeMar DeRozan. USA Basketball managing director Jerry Colangelo might decide to bring 13 players to Spain and make the final cut just before the start of the competition, according to Yahoo Sports' Marc Spears.
Leonard's relationship with Spurs also reportedly strained because of how injury has been...

San Antonio hasn't missed the playoffs in 20 years, but the road is rocky this season

Last year's MVP finalist has missed all but nine games this season
The design for the patch is still being worked on

The explosive forward and upcoming free agent is having a career year

Cuban said on Dr. J's podcast that losing is Dallas' 'best option'