Report: Deron Williams frustrated, but hasn't requested trade
Nets guard Deron Williams is reportedly "frustrated" with his experience in Brooklyn, but he has not asked to be traded.
• 1 min read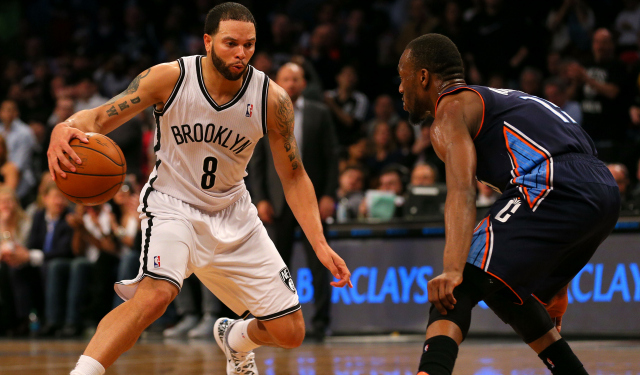 More Offseason Analysis: Coaching changes, news | Free Agency | Draft
Brooklyn Nets point guard Deron Williams hasn't had the best three-and-a-half years with the team. He has dealt with ankle injuries throughout his time there, and he has not lived up to expectations as a franchise player. Williams isn't thrilled with the situation, though a Nets official denied the rumors of him requesting a trade, according to the Brooklyn Game's Devin Kharpertian.
A high-level Brooklyn Nets official told The Brooklyn Game that a report that Deron Williams wanted out of Brooklyn "came out of left field" and that Williams has not requested a trade, butacknowledged that Williams has struggled with the burden of expectation since joining the Nets.

"He's frustrated," the source told The Brooklyn Game. "He's not happy with himself. He's not up to his standards in the three years since we got him."
Everyone in Brooklyn talked about continuity at the team's end-of-season media availability on Thursday, but there are plenty of questions about the Nets' future. It is unknown what veterans Paul Pierce and Kevin Garnett will decide to do this summer -- Pierce is a free agent and Garnett could retire rather than returning for a 20th season -- and, according to Bleacher Report's Howard Beck, the front office "will not rule out" trading Williams.
A Williams deal could be complicated, though. He is set to make $63 million over the next three years, and, though he still sometimes shows flashes of his previous All-Star form, any potential trading partner would likely worry about his ankle issues. This means it'd be difficult for Brooklyn to bring back a player who could bring anything close to equal production in exchange for him.
Williams averaged 14.3 points, 6.1 assists and 2.6 rebounds per game in the regular season, and about the same in the playoffs. He said on Thursday that ankle surgery is a possibility.  
Oklahoma City has reportedly offered the MVP a five-year extension worth over $200 million

The big man was a big part of the Warriors' championship run last season

The Cavs jokes were out in full force after Golden State reportedly agreed to sign Antonius...
New York seems to be at the top of Irving's list of preferred destinations

Is it just a normal workout, or is LeBron continuing his recruiting efforts?

Chris Bosh answered on the spot about the LeBron James and Kyrie Irving situation