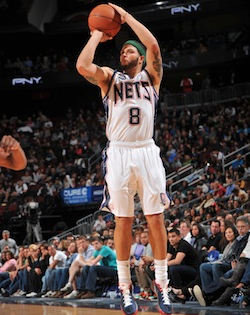 Dallas doesn't have the inside track for D-Will.
(Getty Images)
Zero hour is coming for the Brooklyn
Nets
.
The franchise took a major calculated risk in targeting
Deron Williams
in a trade that sent substantial assets and talent out the door. He's an unrestricted free agent this July and if he choose to sign elsewhere, the Nets will be back to square one.
But according to SI.com
, it sounds like the Nets are at least still the leader in the clubhouse.
A source close to the three-time All-Star said he would be interested in joining the Lakers, though it would have to be via a sign-and-trade deal. (Lakers point guard Ramon Sessions, who was acquired from Cleveland at the trade deadline, has a $4.5 million player option for next season.)

The source said Williams' preference, however, is for the Nets to improve the roster sufficiently enough that he can feel good about staying put rather than fear a repeat of this season, when they finished 22-44. As for Dallas, which sacrificed its best chance to defend the title by preserving salary-cap space last summer in anticipation of this free-agent class, the source said of the Mavericks: "There's no longevity there." If owner Mark Cuban can clear enough space to sign a worthy sidekick for Williams, though, then maybe he'd join his hometown team after all.
Buyers are lining up for Williams as he's the top prize of this offseason. The Nets are catering everything around keeping him, but had a big swing and a miss on Dwight Howard at the trade deadline. All's not lost though, as Howard seems to not be interested in staying with a new Orlando regime.
The Lakers are obviously ready and willing to make a push as their elimination at the hands of the Thunder signaled a window closing down. Kobe is aging and it's time for a new star to be ready to take the torch in a few years.
Dallas has spent the season positioning for a run at Williams, a hometown guy, but as the report states, he's not going to go to another Nets situation in Dallas.
Dirk Nowitzki
has some years left, but there's a lot of uncertainty around the roster and a rebuild could be coming soon.
A report earlier in the month
had the Nets with only a "50-50" shot at Williams.
It seems pretty clear that Williams would prefer to be a part of the Nets new look in Brooklyn, but he's had to spend two seasons in the lottery since his move to the franchise, and has probably had about enough of that. The Nets traded for
Gerald Wallace
at the deadline this season, have
Brook Lopez
and a little extra cap space. And of course they're major players for Dwight Howard when those talks kick back into gear.
Come July, Williams will be the player most are focused on and it seems the field is narrowing. With a clear leader in Brooklyn.